Colorado is known more for its mountains than for its canyon lands; and the Rocky Mountains are not the kind of geology that produces arches. But far western Colorado is where the great red rock sandstone plateau begins, that goes on to cover vast areas in the neighboring states of Utah, New Mexico, and Arizona -- the richest arch country in the world. So there are a few good arches and bridges scattered around the western edge of the state. And then -- there is Rattlesnake Canyon! That one small canyon west of Grand Junction contains one of the highest densities of arches of anywhere in the world -- at least a dozen, all in a row, within a mile. It's a difficult, rough, 4WD drive to the canyon, but well worth it... seldom can so many fine spans be visited in one rather easy hike. Just watch the road on your drive in... you're lots more likely to get lost on the way back out than coming in!
East Rim Arch -- one of the largest in Rattlesnake Canyon.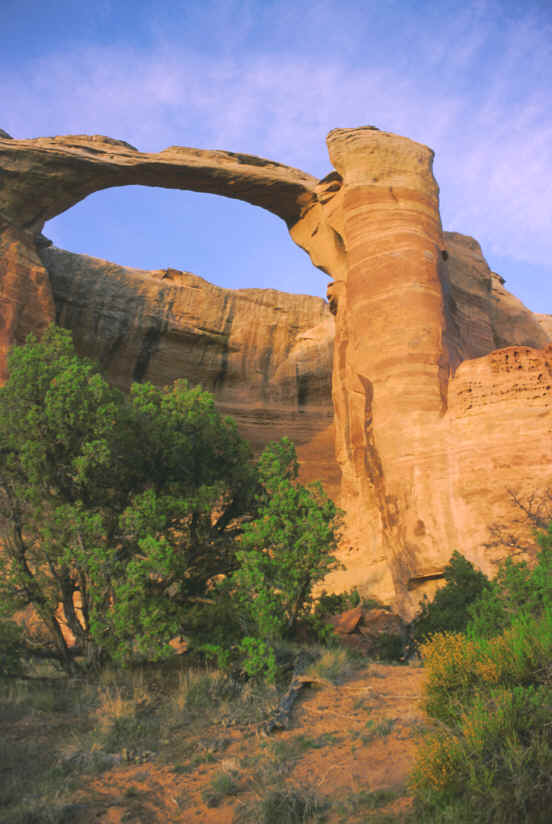 Hole-in-the-Bridge Arch -- Rattlesnake Canyon
I was annoyed when a plane decided to make a big jet trail right above this amazing arch just as I was about to take a picture, because I knew that
it could take 15 minutes for it to finally disappear. Then I realized it might help to show up the unique hole all the better, so I took the picture anyhow.
It has turned out to be one of everybody's favorites.