This vast area, at 1.6 million acres larger than some eastern states or European countries, is one of the newest national monuments, having been signed into existence by President Clinton in 1996. The official name is the Grand Staircase-Escalante National Monument, but it is usually shortened. The Grand Staircase is a huge series of rock layers extending all the way from Bryce Canyon in Utah down to the Grand Canyon in Arizona, over 100 miles, with each "stair" being up to 20 miles from front to back, ending in broad cliffs with the next "step" below it. It is a rather grand concept, but it can't be actually visualized anywhere, causing the typical tourist from Dubuque or Peoria to look around, disappointedly saying, "I don't see no big stairs out here...." So just Escalante National Monument seems to be the preferred name nowadays. Silvestre Escalante was a Spanish explorer in the area, and in 1776 he and his men were the first Europeans to enter Utah. The largest river in the area is named after him, and so is an isolated small town, which is quickly becoming the "new Moab" of southern Utah, because of the popularity of this national monument for hikers and campers.
The canyons of the Escalante River are some of the most spectacular and beautiful on earth, and they are also great territory for arch hunting. This area is second only to the Moab area in the number and size of its arches. Perhaps the most perfect little canyon of all is Coyote Gulch, with its three fine arches and a natural bridge.
Stevens Arch
My favorite arch in the world. One of the country's top ten, the opening is 225 feet across -- that's three-fourths the length of a football field. It looks like a scary climb to get up inside it, but things are on such a grand scale here that actually those ridges below the arch are as wide as a freeway. Still, it's a strenuous climb, and you have to cross the waist-high river first, after you've done the bumpy 40-mile 4WD drive and the seven-mile hike to get there in the first place; and getting back out of the canyon is the hardest part of all, at the end of a long day! Situated where Coyote Gulch enters the Escalante River, it has one of the most glorious settings of any arch in the world. You can read more about it at my story "In Search of the Giant Arches".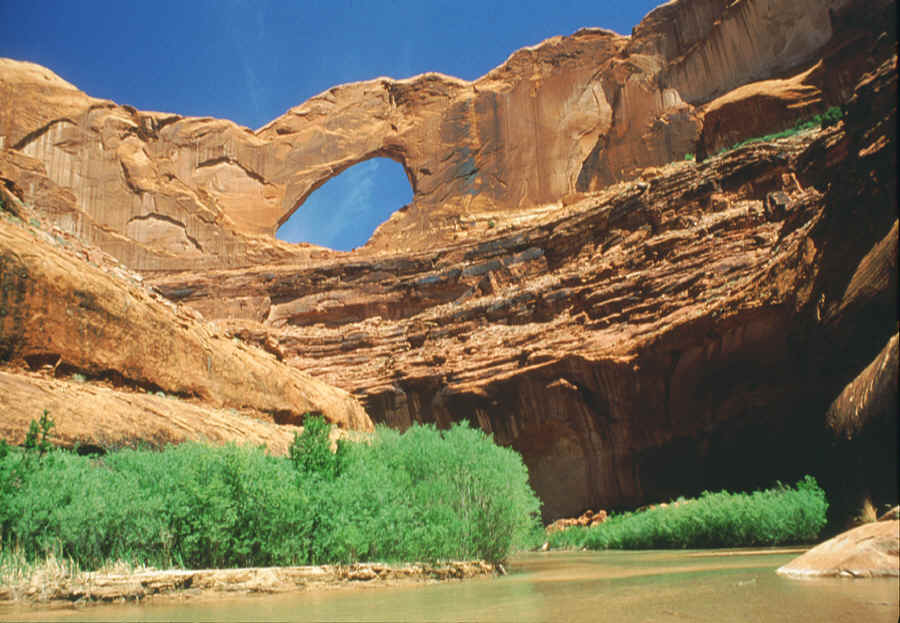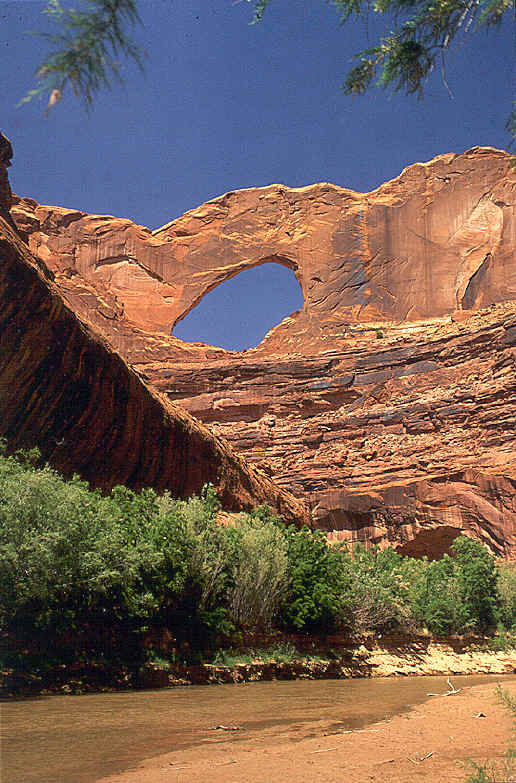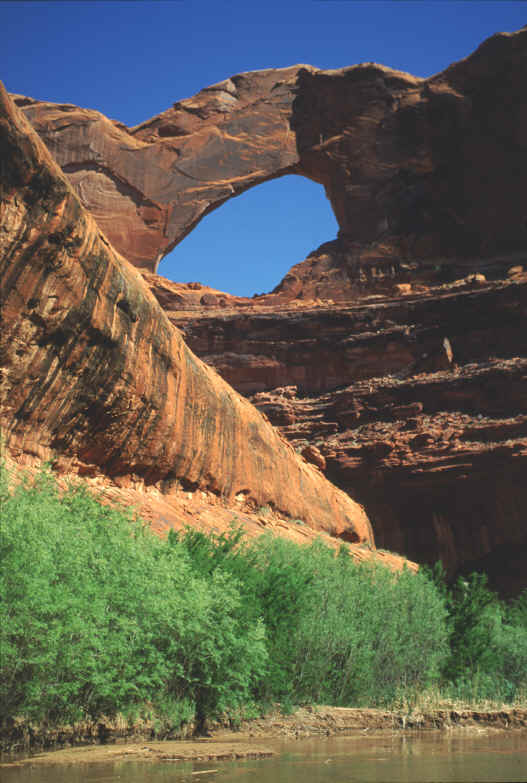 This will give a better idea of the massive scale of the Stevens Arch -- I'm over in the far left side of the opening, wearing red pants for some reason.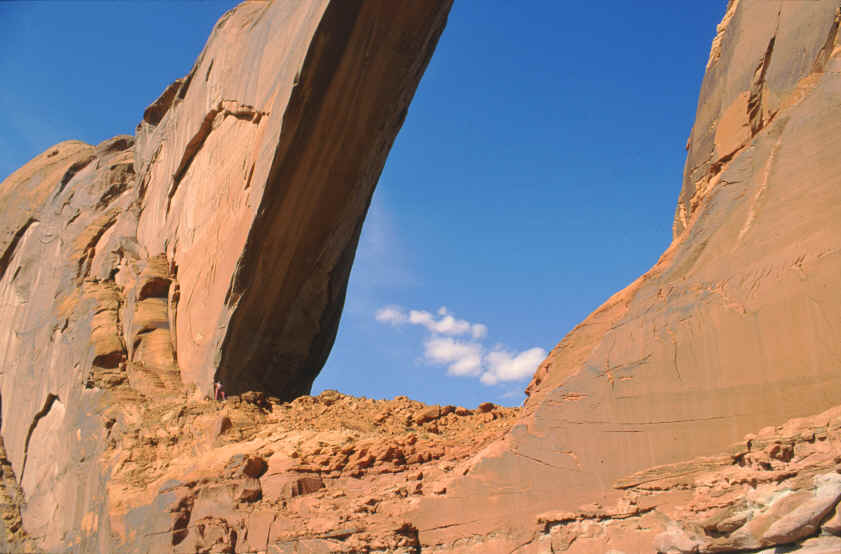 A view of Coyote Gulch -- the prettiest little canyon in the West!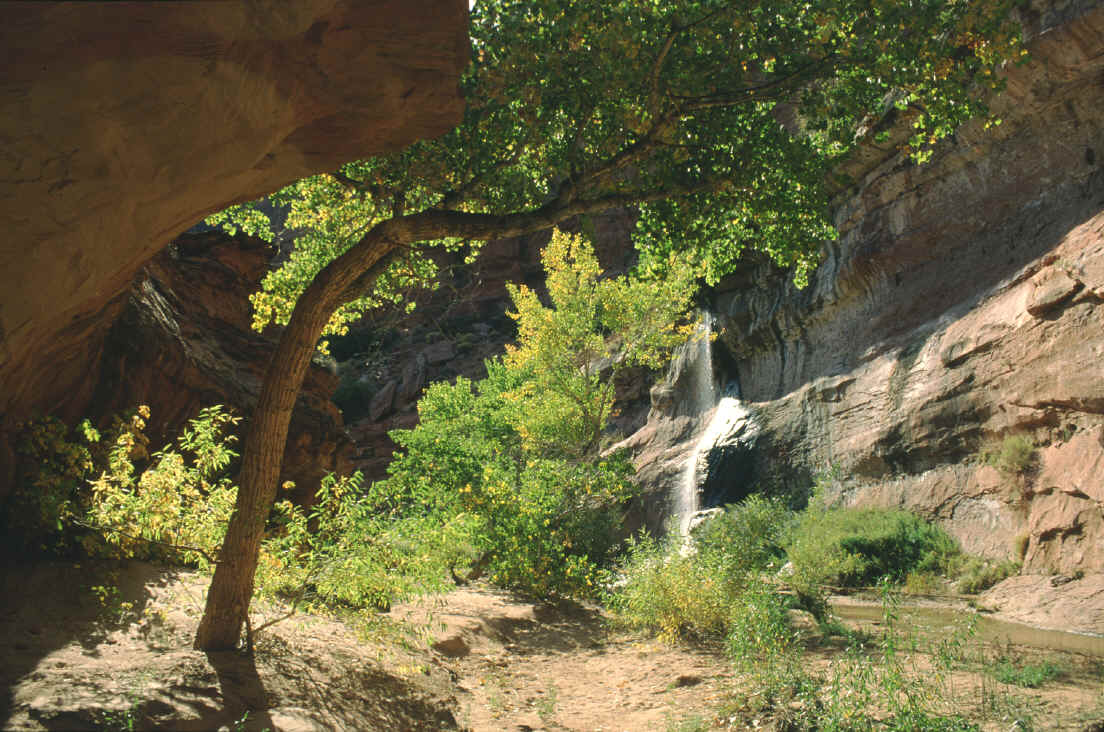 Metate Arch -- Easy to find and drive to, near the beginning of the famous Hole-in-the-Rock Road out of the town of Escalante, this pretty little arch
gets lots of visitors compared to the nearby ones down in the canyons. The two-tone coloration of the left column is unusual and attractive. The span itself
is only about a foot wide, and rounded on top... so of course I had to walk over it! (Several times.)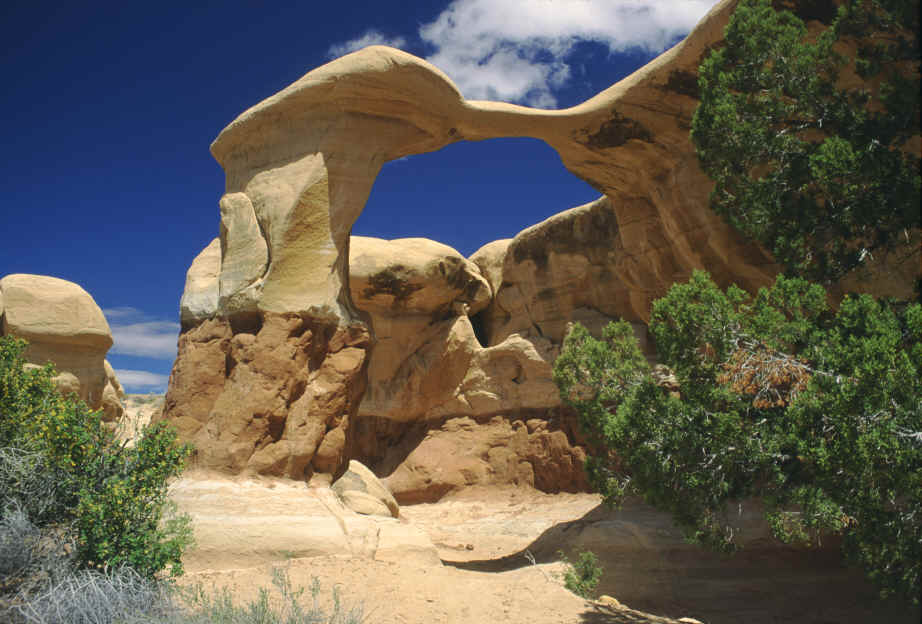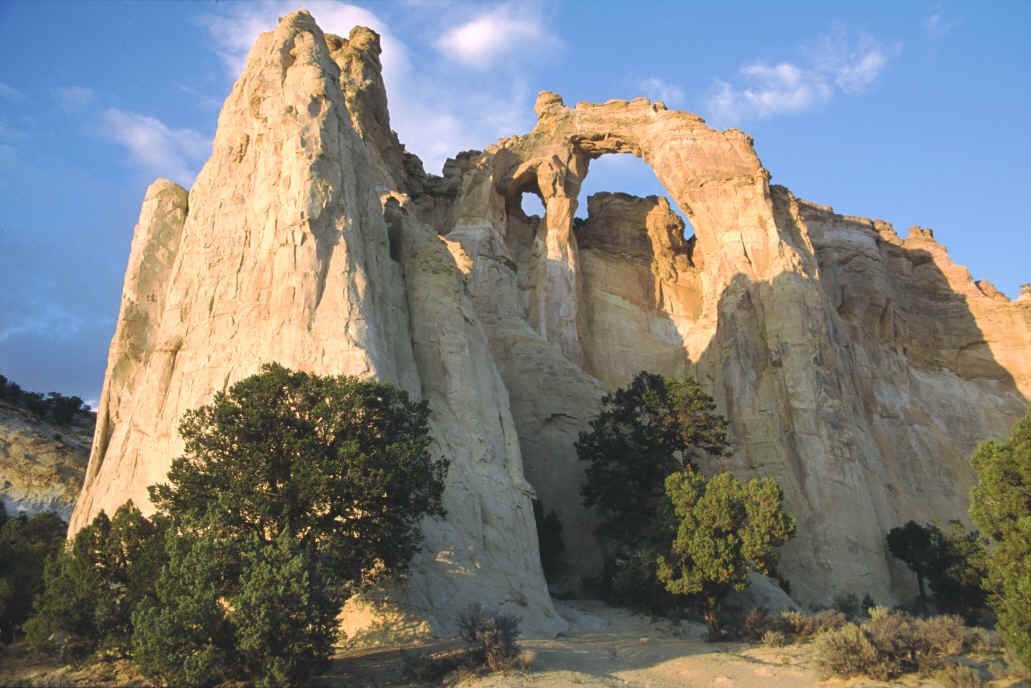 Grosvenor Arch:
(Pronounced Grove-ner)
It may not be one of the largest in the world (though it's pretty big, and a double too) -- but it is undoubtedly one of the most beautiful arches on the whole planet. It's near Kodachrome Basin, south of Cannonville UT, several miles down a gravel road. I've been to it many times, but was quite disgusted the last time I went -- for some crazy reason the BLM built a concrete sidewalk from the parking area right up to it!! What ever possesses these people who are supposed to be protecting and preserving our monuments, to do something as idiotic as that?? This is supposed to be Nature, folks... not city life. Nature is what people who visit these places want to see, not more sidewalks like in the cities they just left. And it really diminishes the impact of a beautiful natural wonder like this when no effort has to be made to see it, and the surroundings are corrupted with concrete, as if it's just another big building along the side of the road that people might want to stop and gawk at. Natural wonders are always at their best when the surroundings are kept natural too.

I wanted to see if it was very easy to get back behind the Grosvenor, so I climbed up from the left, which was hard, and found a way back down on the right, which was easy. So I set up my camera timer down below to click after 30 minutes, them climbed back up from the right. I got lost, the camera clicked without me, so I had to come all the way back down, set it again, and climb up a third time! While standing where I am below, I got suddenly dive-bombed by a bird who resented me being in her personal air-space, which surprised me so much I nearly tumbled over the edge -- one of the only close calls I've ever had while arch hiking. Though I've been to the Grosvenor 5 or 6 times since, I've never attempted getting on top of the arch itself... it's much steeper and rougher than it looks, and the whole thing is made of a crumbly conglomerate rock that I haven't seen anywhere else.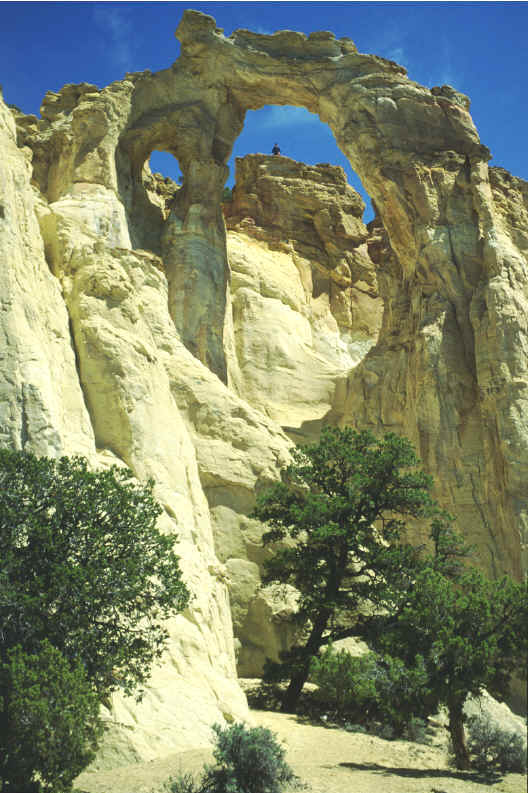 The Escalante Natural Bridge is not a natural bridge! It is an arch; there are many arches across the country that are commonly called natural bridges (and a few bridges that are called arches), since most people don't know the difference. But a natural bridge has to have been formed mainly by the running water of a river or stream undercutting rock, whereas arches are formed by rainwater erosion, a far slower process. Even though this is a beautiful arch, I think looking out through this one is even better than looking at it!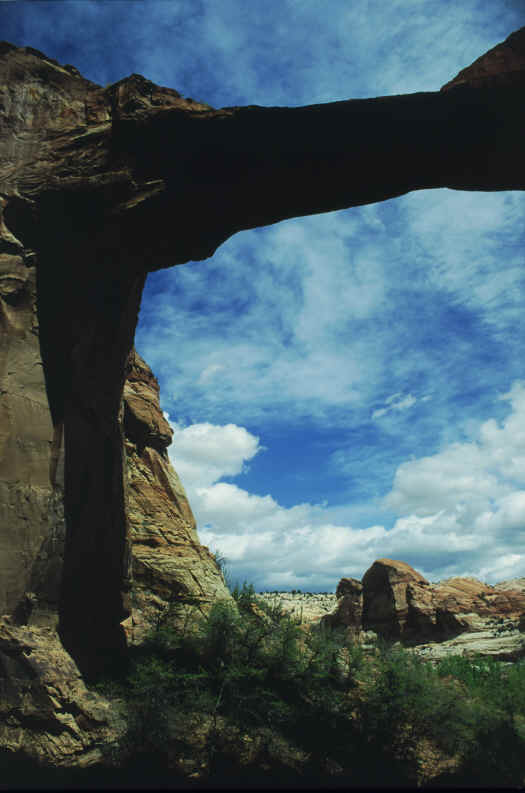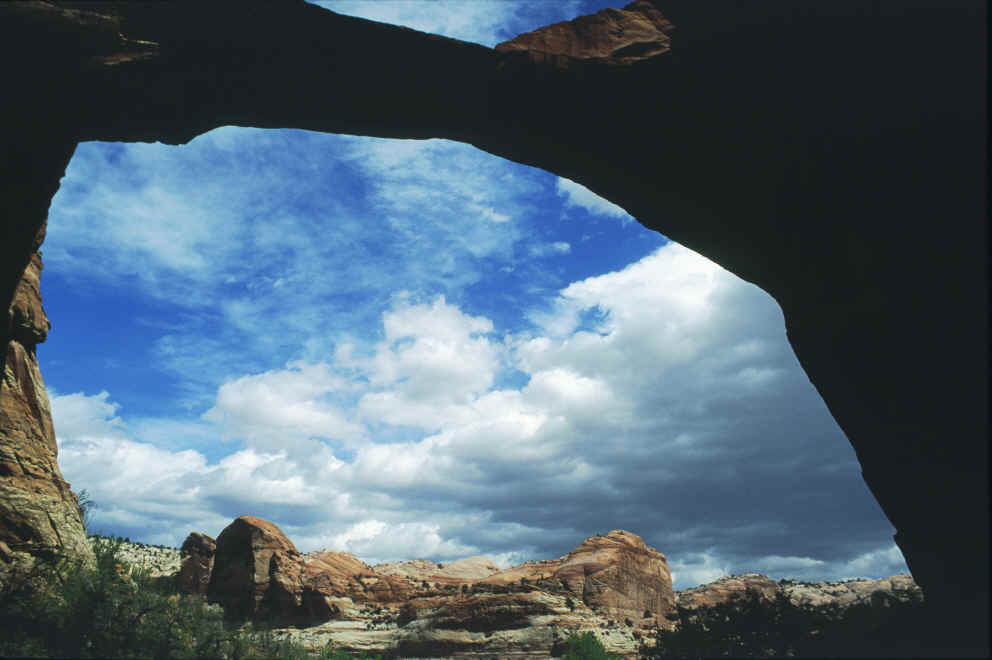 Horizon Arch
This is a charming little free-standing arch in the Escalante area that gets few visitors; but they are rewarded with an arch of highly irregular shape and a great hilltop view.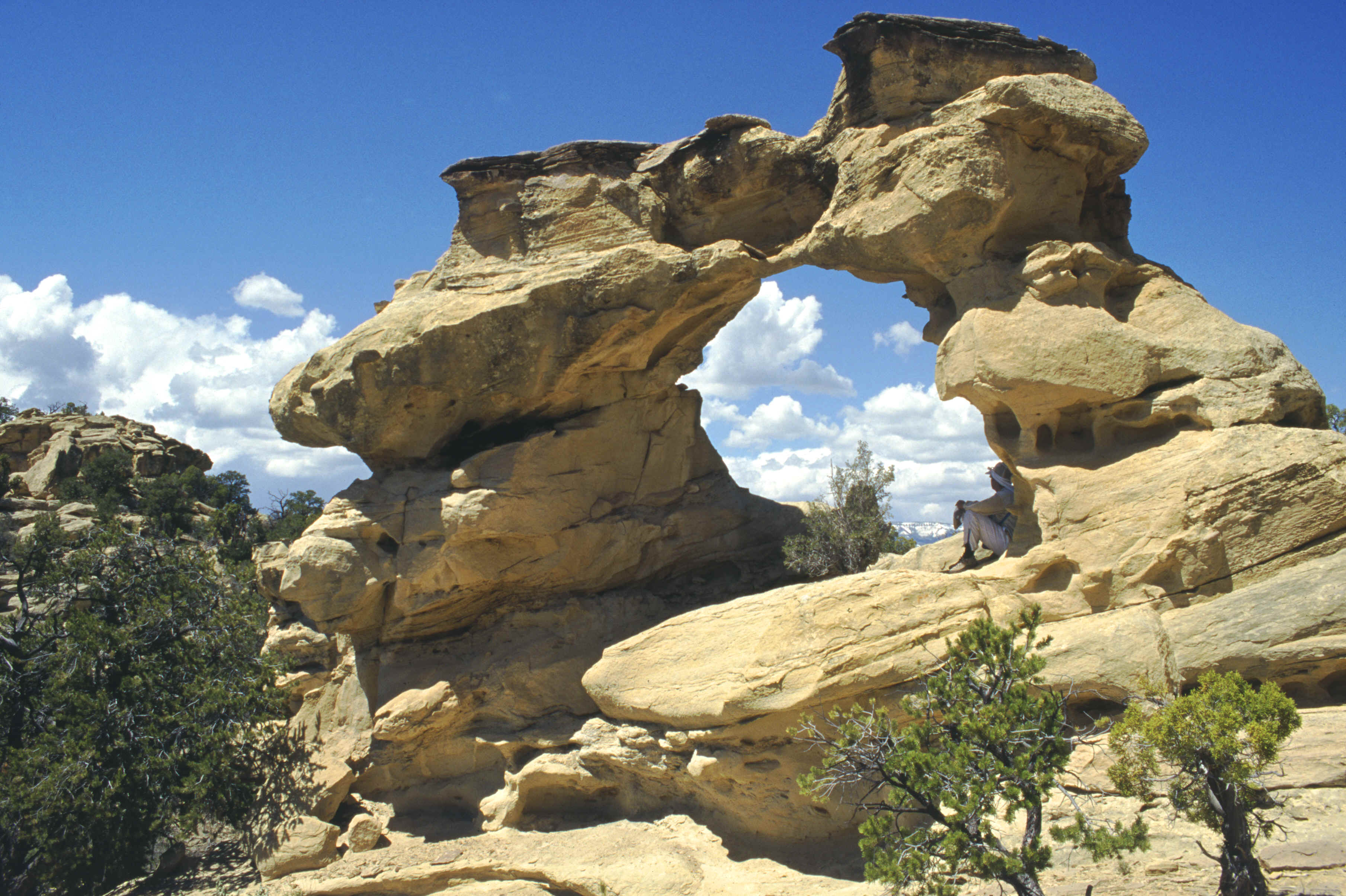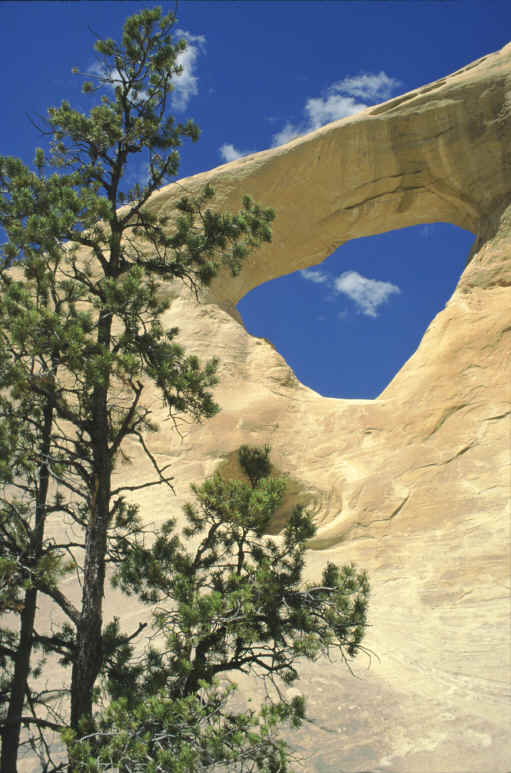 Cedar Wash Arch -- the usual approach to this arch is from the canyon rim, looking down at it... so few people see it with sky showing through, which I always like to see so you can get a better idea of the shape of the opening. Every picture I'd seen was angled down too. So I figured out a way to get way below the arch, which involved a bit of a roundabout scramble, but it gave me a really nice view.