Moab is one of the most popular centers for hiking, biking, 4-wheeling, and river rafting in the world. It is a charming small town that has everything you need to make it your headquarters for all kinds of expeditions -- plus, it is right between Arches and Canyonlands National Parks. Those two parks preserve and protect hundreds of square miles of the most scenic and interesting land; but there are still vast areas of land outside the park boundaries that are perfect for arch hunting, and dozens of fine arches and bridges can be found if you know where to go. This whole area is amazingly picturesque... huge areas that would qualify immediately for national park or monument status in less fortunate states are practically overlooked or ignored around here. The great thing about these "wild" arches is... you can climb all over them! Under, through, on top of, whatever you want to risk or dare. They're just out there in the desert or down in the canyons, unprotected by the park system... and in a way that is good. As soon as an area becomes designated an official National Park or National Monument, the tourists come flooding in by the millions, which can cause more damage than when the land was unprotected and only known and visited by the locals -- and us arch hunters. Here are some of the many fine arches near Moab. Some are easy to find, but many require some preparation and back-country hiking or four-wheeling experience.
Corona Arch: One of the great ones. It's not far out of Moab, on the Potash Highway, and it is a popular hiking destination. Two other fine arches are passed on the way to this one. A local bush pilot famously used to fly his plane though the Corona Arch back in the 80's (and also through the Wilson Arch south of Moab -- neither is in National Park land). The Corona is set in a pretty canyon, which has suffered the horror of having a train track cut right through the rock for its full length. A train loaded with potash shaking the ground right below the arch a couple times daily certainly can't contribute to the stability and longevity of this great span.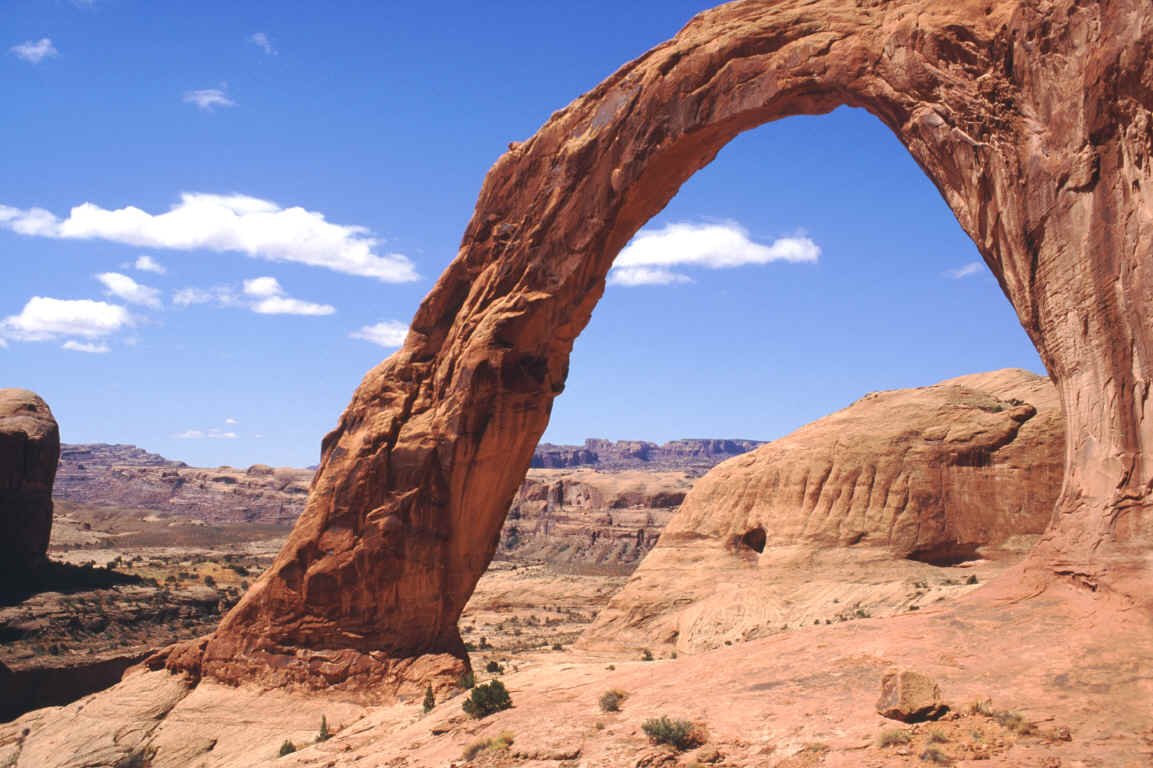 I didn't take the plane picture, it's from many years ago. It's pretty impressive!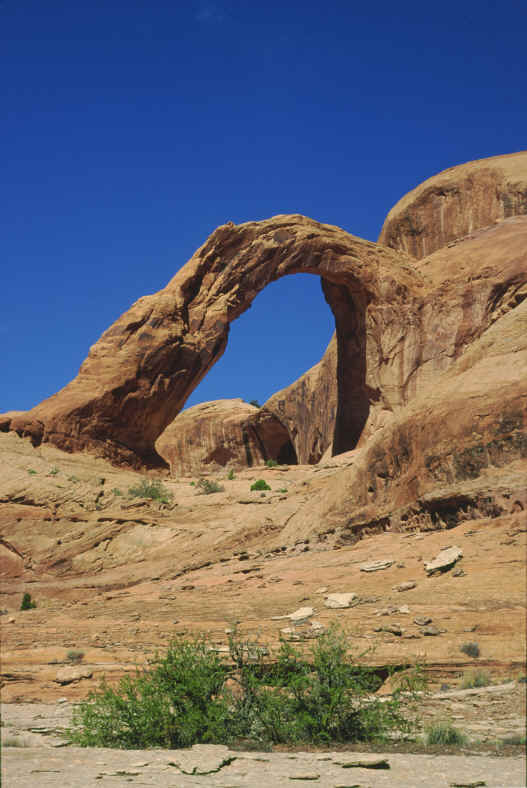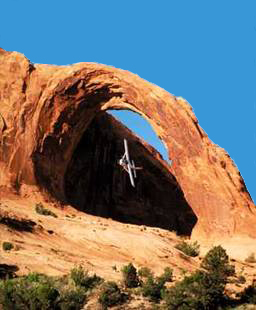 Gold Bar Arch: This nice little arch is seen above and far to the left of the trail going out to the Corona Arch. It was named after the nearby Gold Bar Canyon; the arch itself doesn't have anything in particular to do with any gold bars.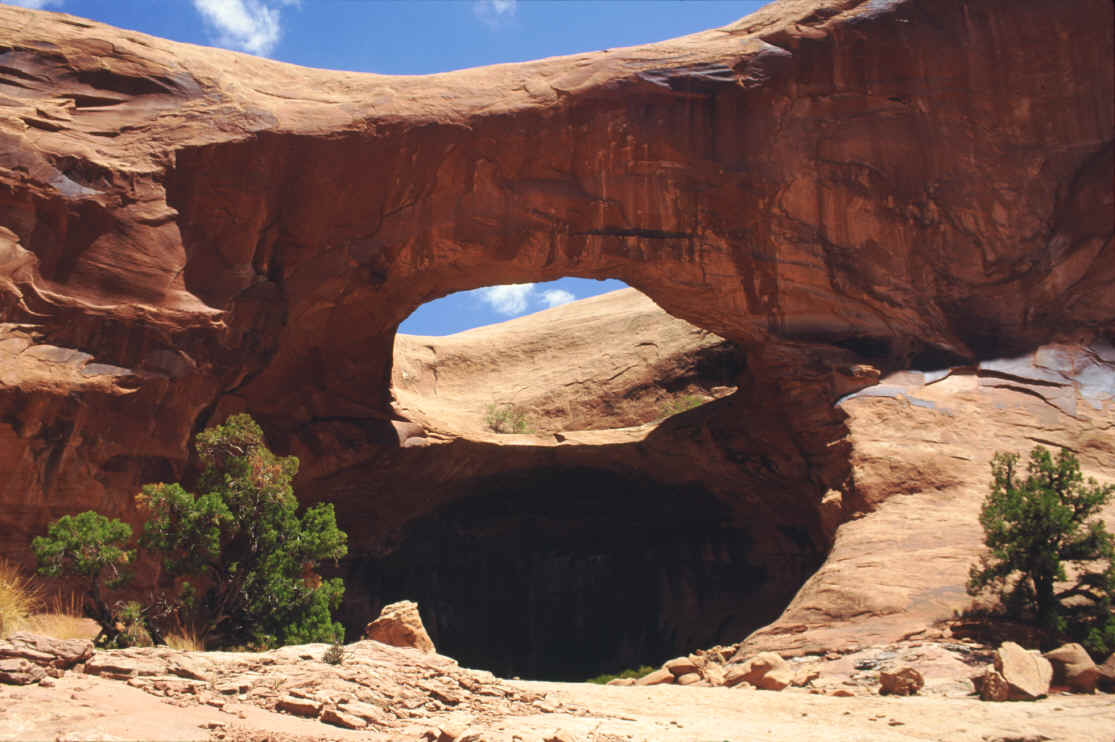 Gemini Bridges: an excellent example of double arches;
they're not natural bridges, but the name seems to have stuck,
no doubt because they are so bridge-shaped, flat on top and
arched underneath. They can be easily driven to from the top
side, but you can't really see them well from up there. To get
to a viewpoint below requires a rough but fun 4WD trip through
Bull Canyon. And to actually get to a viewpoint like I had in
this picture, with sky showing between the bridges, is not easy
at all, requiring climbing with ropes. In fact, I've never seen
another picture of the arches with sky between, which is why
I was determined to climb up to this angle, so the separation
between the two could be clearly seen.
Morning Glory Arch: One of the great and wonderful US Big Ten spans! It ranks as #5 in the country, at 243 feet long. Unfortunately, it is one of the least impressive of the world's top spans, since it is only separated from the wall behind it by about 15 feet, making good photographs rather difficult. To get to it is an easy and pleasant 4-mile round trip hike from the Colorado River north of Moab, in a place called Negro Bill Canyon. The curvature of the arch's underside is quite shallow, making it one of the most vulnerable of the great spans for collapse (though nowhere nearly as fragile as the Landscape Arch a few miles to the north of it). Even though not as spectacular as we wish it could be, it is a wonderful piece of rock when you are standing there in front of it in its quiet secluded box canyon.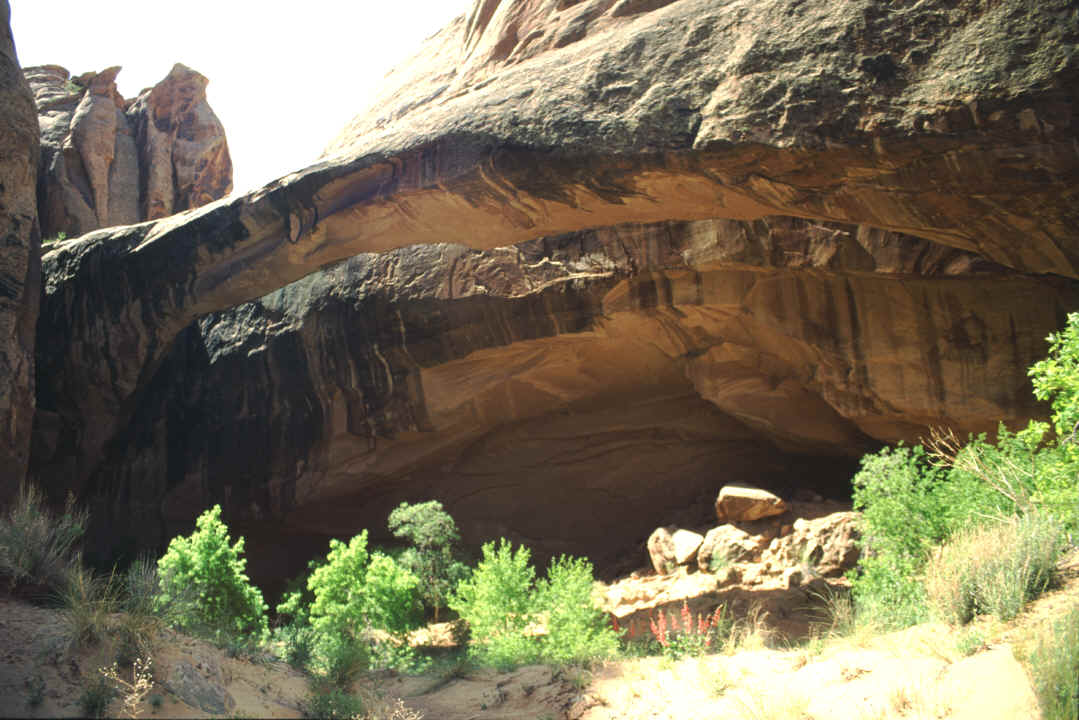 Standing under the left end of the Morning Glory Arch, looking up at the full length of it.
This is the only way you can ever see any sky between it and the cliff wall next to it.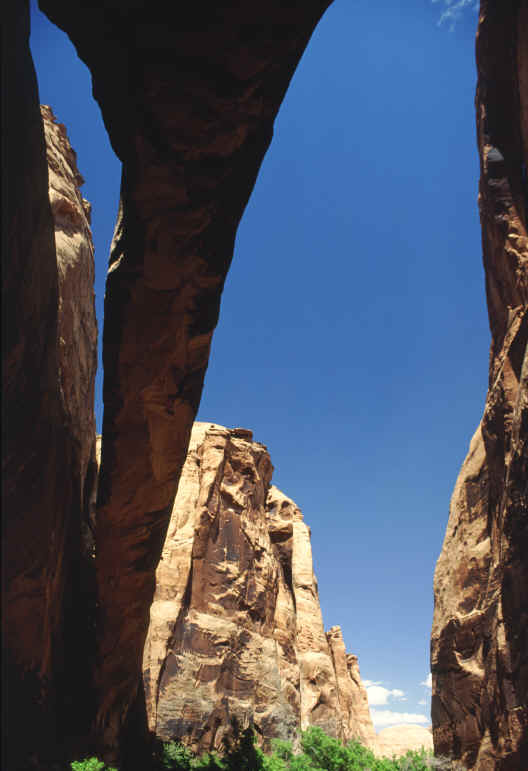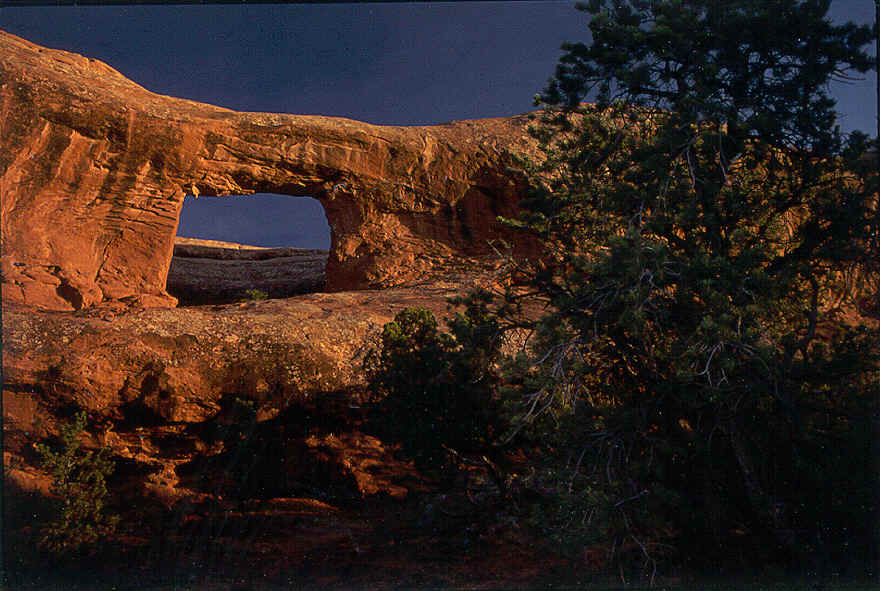 Picture Frame Arch
Situated on the north end of a large rock outcrop south of Moab called Prostitute Butte (who knows why), this arch is very attractive in its own right; but to stand behind it and see the beautiful valley in front of it framed by the nearly square opening makes you realize the arch has an ideal name, whether the butte does or not.
I just chanced upon this interesting window while exploring the area around the Pritchett Arch. It doesn't seem to have an official name, so I call it the Vermont Arch, since the opening looks just like the outline of the state.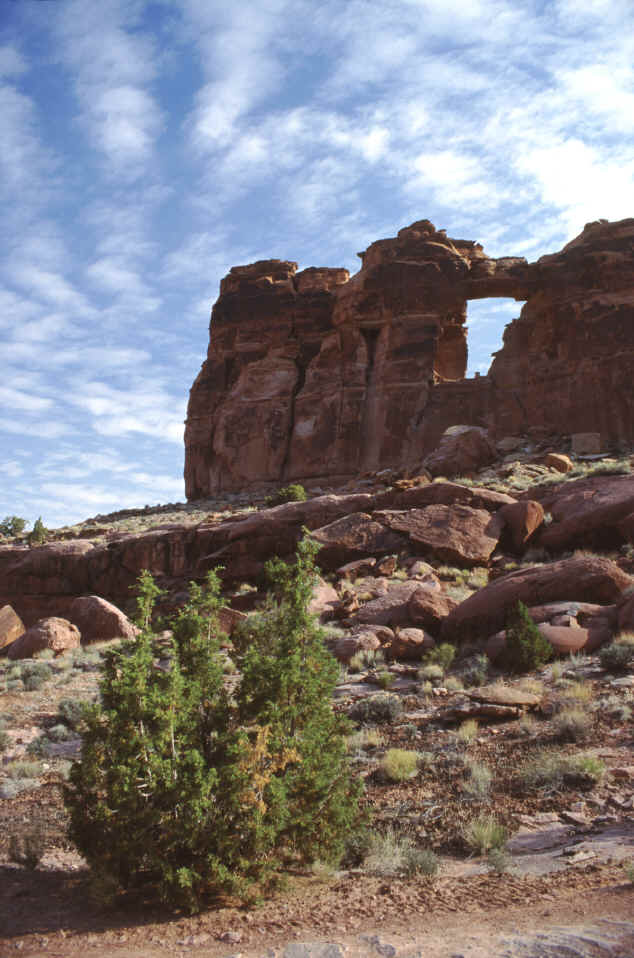 The elusive Uranium Arch, which many have attempted to find, and few have succeeded! On my third try (with directions of the "turn left when you pass the cattle" or "if you come to the dropoff you've gone too far" type), I and a friend finally made it, and it's a beauty, and you sure don't have to worry about anybody else being within many miles around. I had seen pictures of a small Jeep right on top of it, so I took my big Dodge Ram up to the left top edge... and decided No Way. Yes, it would have been possible, but if I had collapsed the arch, there would be lots more mourning for it than for foolish me. This arch has one other distinction... it is most likely the only arch to have ever had a streaker run screaming across it from end to end -- and back. I won't say who, but it was not me.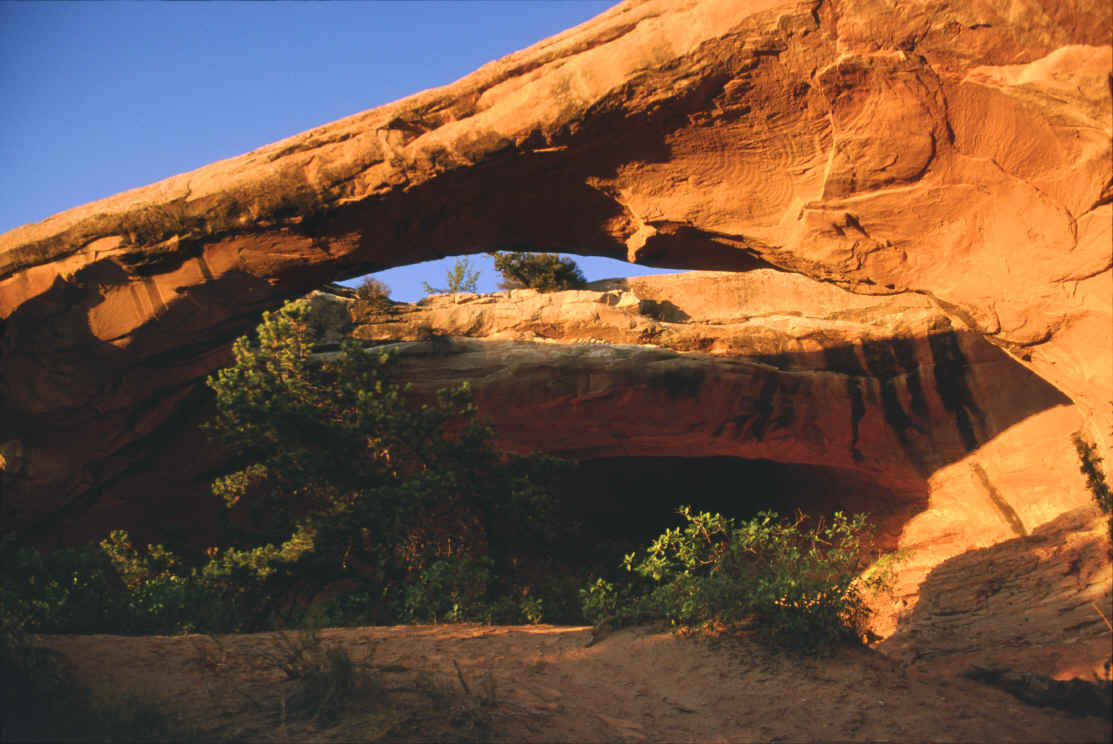 I like this sunset shot of me on the Uranium Arch, though the only part of the actual arch visible here is in the bottom right corner.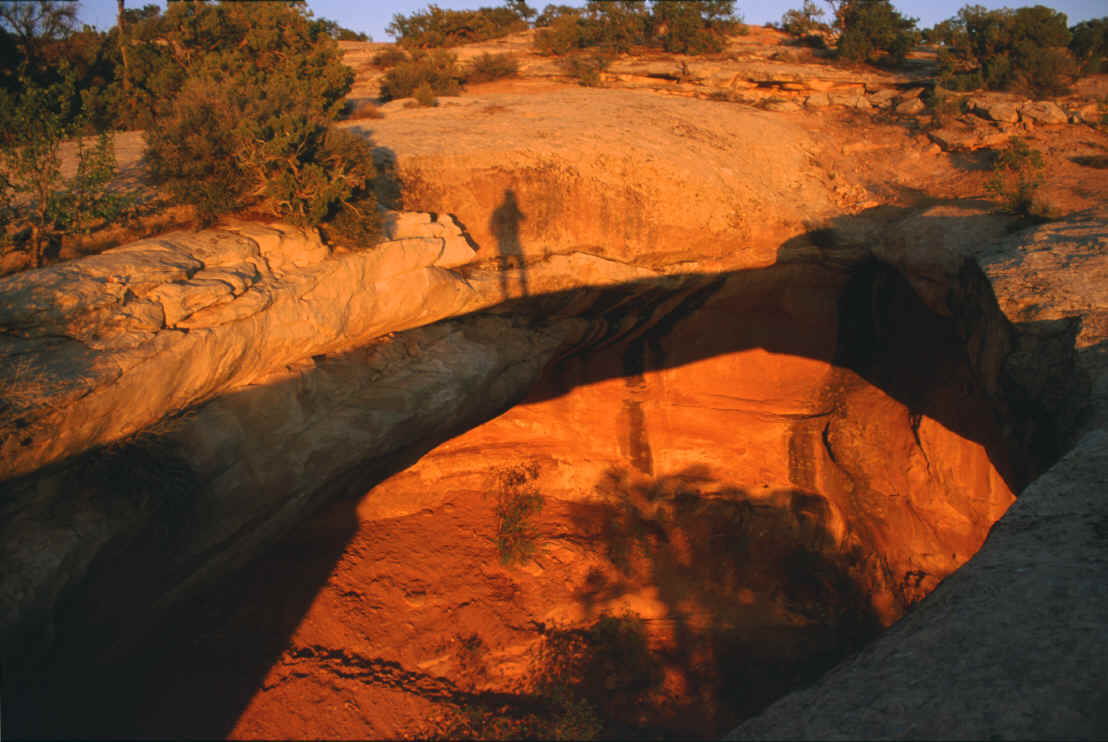 The Wilson Arch has probably been seen by more people than any other arch in the world. It sits smack on the side of the main highway for all of southwest Utah, and even has a couple of pull-out areas right in front of it. Since it is so visible and easy to get to it doesn't get as much appreciation as it should, in spite of the millions of people who have climbed through it -- it is really a major arch, but to most it's just another roadside curiosity. I have often wished it was still far off in the boonies, surrounded by nothing but nature, as it was for a hundred thousand years; it would be well worth a long backpack to go see it. But no, now you can park right in front.