The northwestern area of New Mexico is part of the giant Colorado Plateau (which is actually mostly in Utah), and therefore is prime arch territory. The Colorado Plateau, more than anywhere else in the world, has the right combination of weather and geology to create great arches. There are not as many as in Utah or Arizona, but New Mexico has some fine examples of arches and natural bridges both.

Arch Rock, near Aztec NM
I'm sitting here under the boringly-named Arch Rock, which is also an innaccurate name, since it's a natural bridge, not an arch... one of the few true natural bridges that has "arch" in its common name. There are plenty (way too many) arches that have "bridge" in their common name, so this is a rare exception.
The Big Eye -- near Navajo NM. Notice the person in the left center, for scale.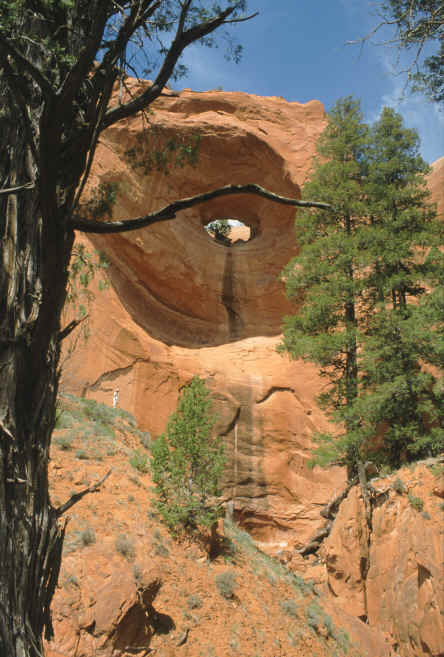 Cox Canyon Arch -- One of the rare and wonderful free-standing arches, that are just standing out there all by themselves, and look great from either side.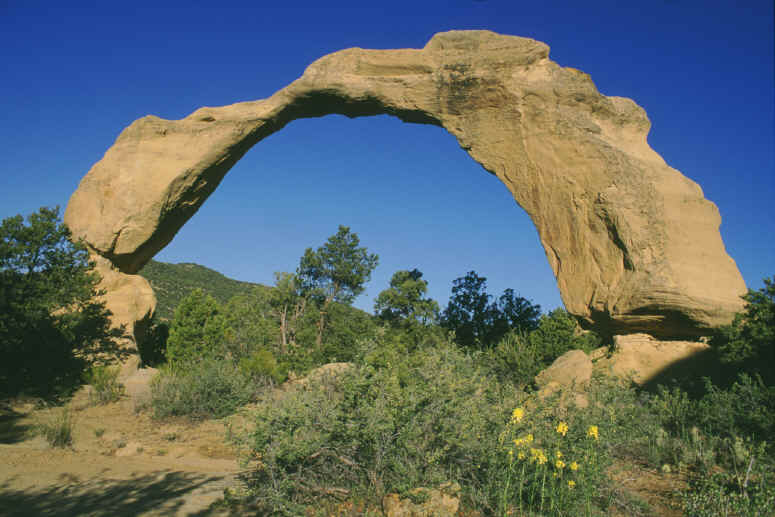 The Cox Canyon's frighteningly fragile north leg: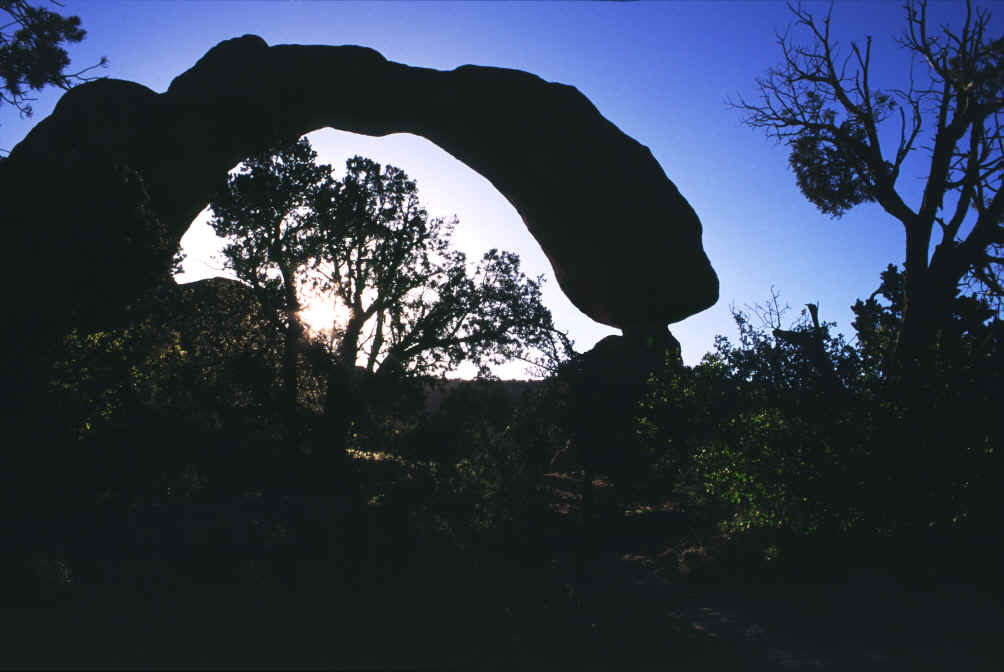 And another view of it: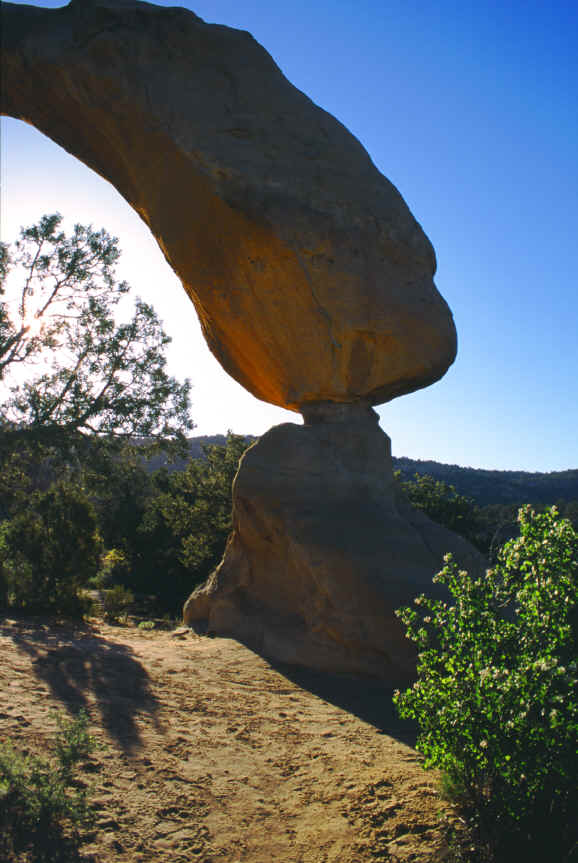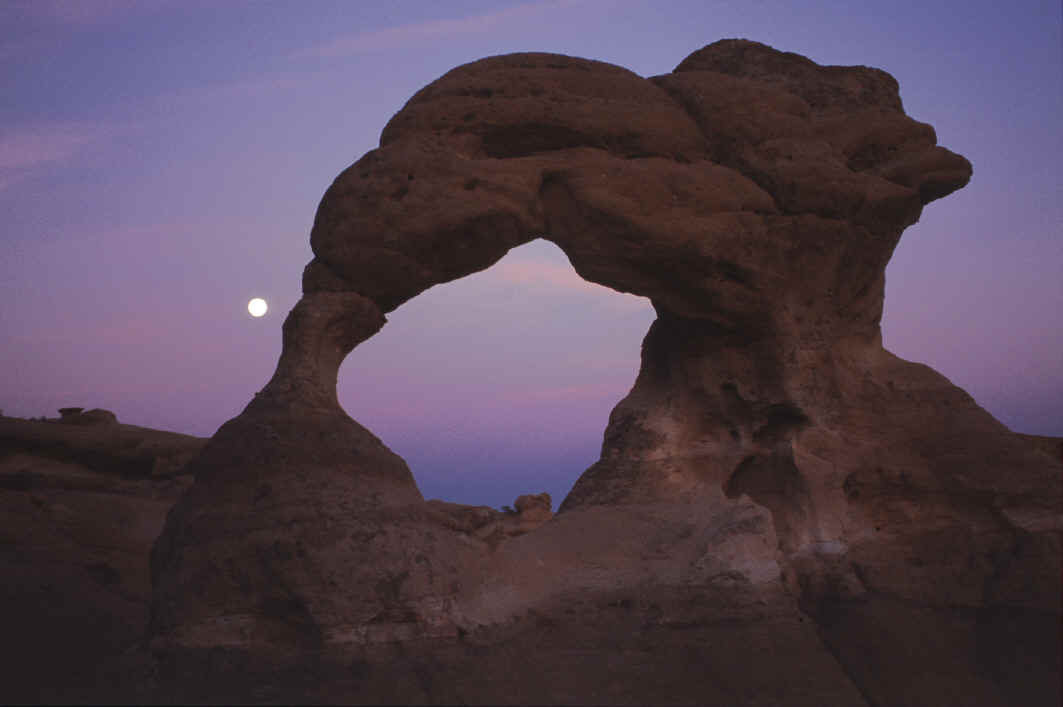 Rooftop Arch -- another free-standing arch. It's not large at all, but is one of the most scenic in the state. It is sometimes called the "Little Delicate Arch", referring to the famous Delicate Arch in Arches National Park.
Knobs Arch -- near Navajo NM
The hike up to this arch is one of the most beautiful anywhere -- this is a much greener area than where most arches are, with great views for miles around. I've been here three times, and got horribly lost the last two times trying to get back down off the mountain!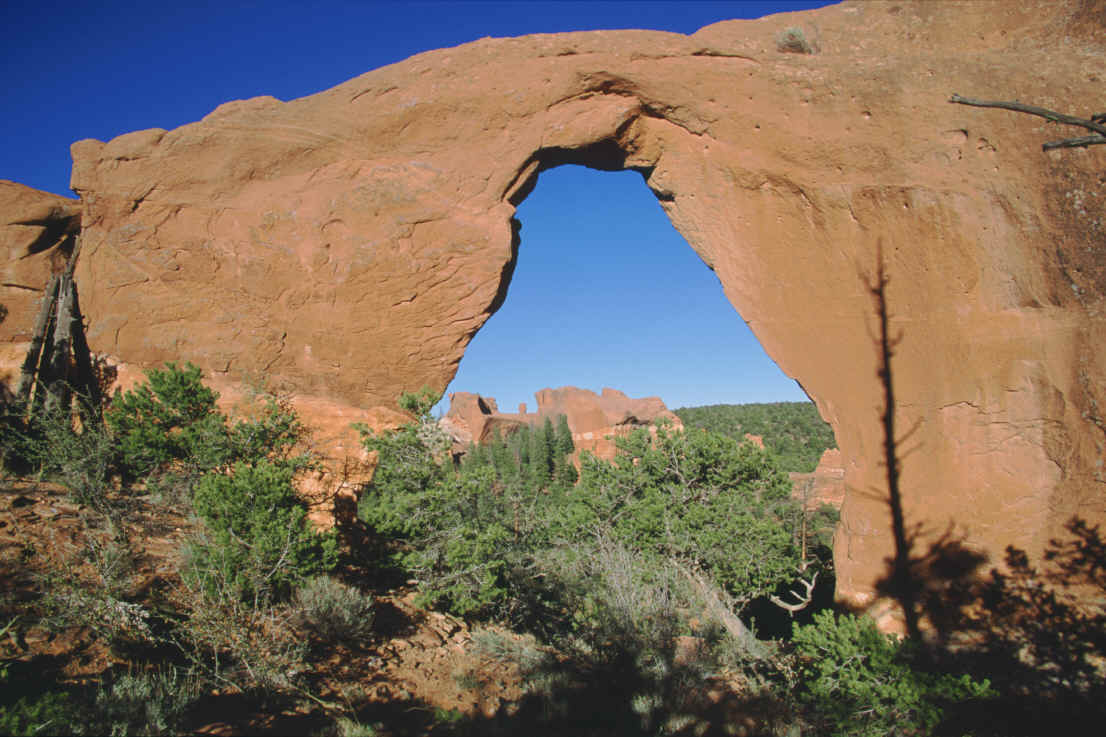 The Drill Pad Arch -- near Aztec NM.
Not a big one, but it would be very picturesque, if not for the oil well right next to it! There oughta be a law....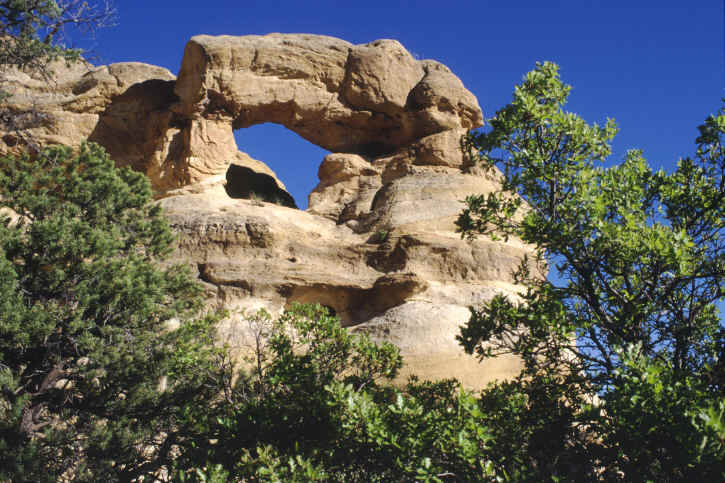 Red Lake Natural Bridge -- near the Arizona border, on the Navajo Reservation in NM:
One of the most impossible to photograph spans I've ever been to. It's huge, but you can't ever get a picture of the whole thing because you can't back up far enough with running into a cliff wall, or falling off one. It's not at all well-known, though it's pretty easy to get to -- I've been here three times.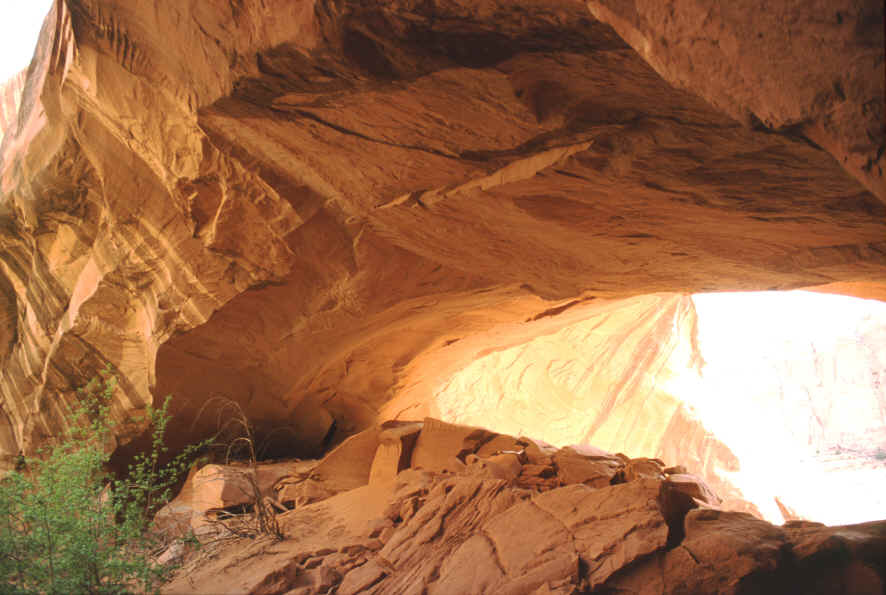 This is the Red Lake Natural Bridge from the other side. I couldn't back up any farther! You just have to go there to appreciate this giant bridge.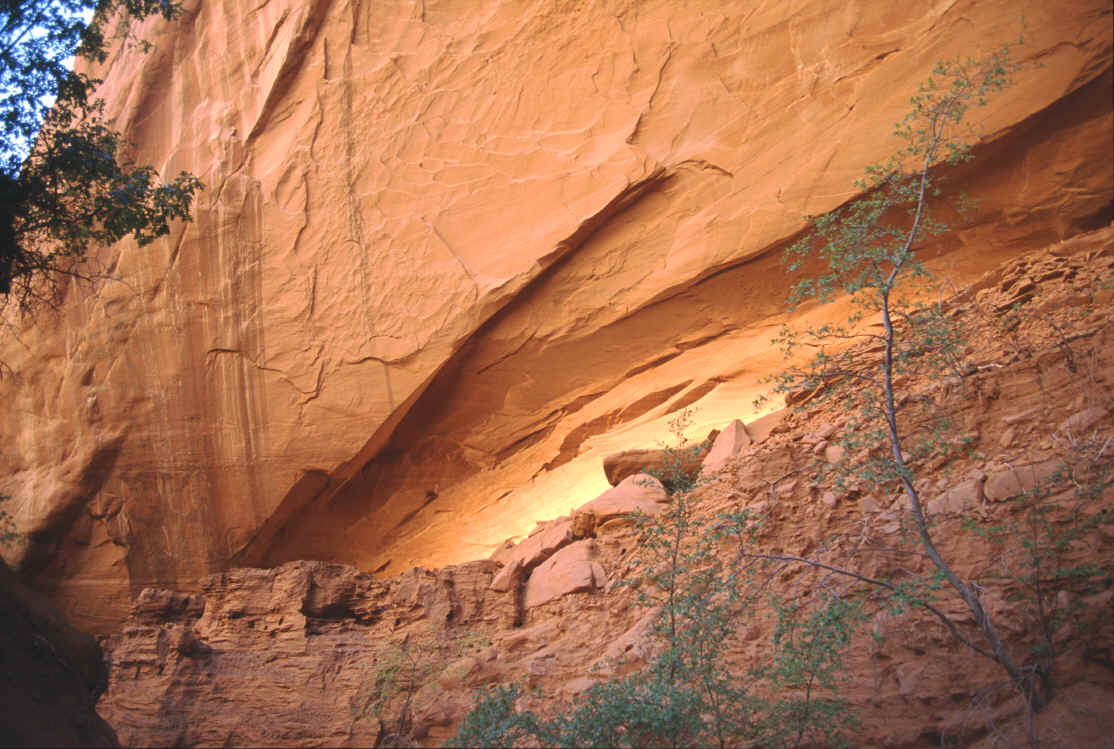 The Red Lake bridge has plenty of room to grow. The stream still passes under it, though you can't see it in these pictures.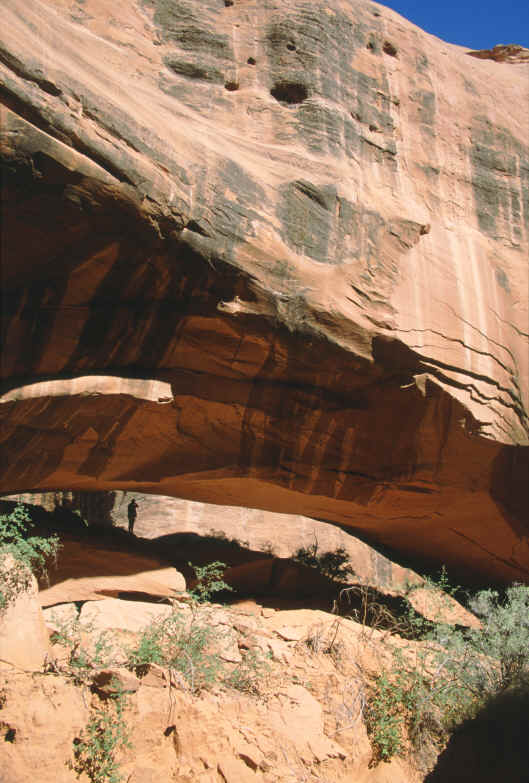 Little Skyline Arch
The drainage streaks coming down from the two ends of the arch are interesting, even attractive.
The "real" Skyline arch in Arches National Park is much larger.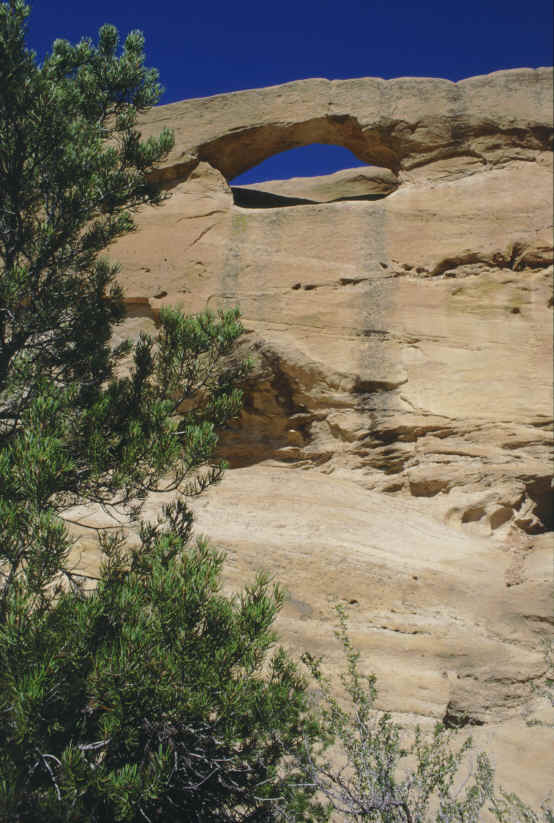 Alligator Arch
This fine and ancient arch is no longer with us. It recently collapsed, though we don't know exactly when. It took millennia to make it, and a second or two to die. I'm glad I got to visit it, once. It wasn't huge, but any arch that is so obviously nearing the end of its life is exciting to see. I had no idea it would be gone so soon, but it is no wonder, with the thinness of the span and the flatness of the underside; there was simply no longer any support for it, no arch to it. This would probably be considered the back side, since the other side looks out over the valley beyond and would usually be the side seen first.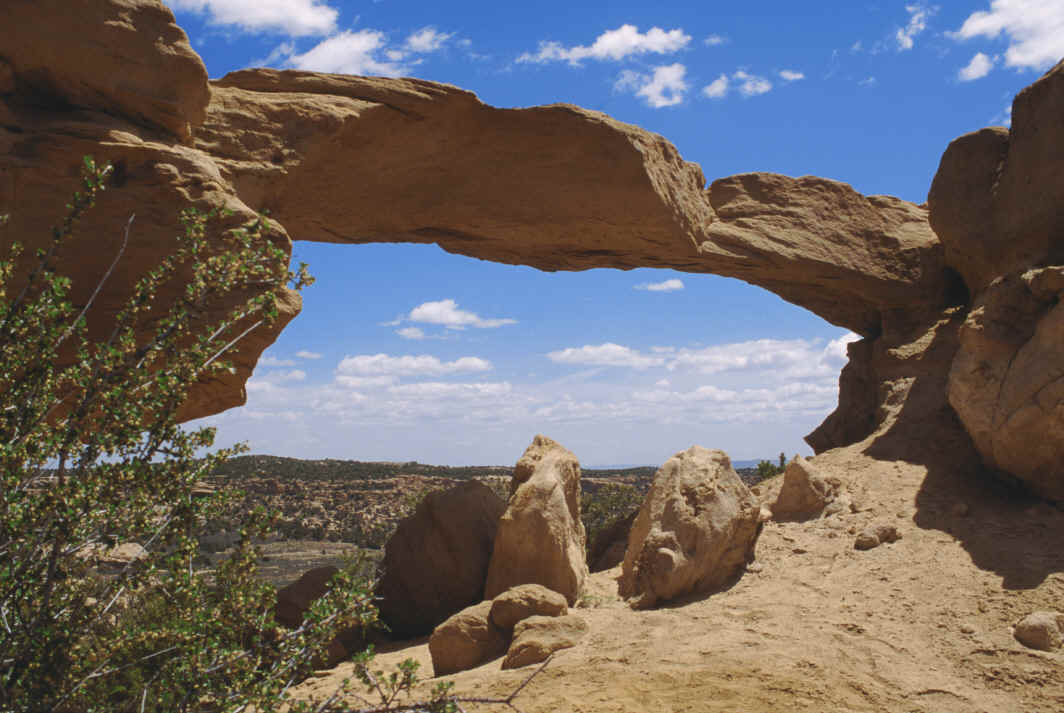 But of course, I still just had to get on top!