Text and pictures by Galen Berry

Kashgar, China feels like the exact center of the remotest place on earth, and maybe it is. So it seems appropriate that one of the world's greatest natural arches is also in the area, and not really so far away. Kashgar itself is certainly a great place to visit, though you have to make quite an effort to get there – it is about as far west as you can get in China. It was one of the most important stops on the ancient Silk Road, the great camel train trail from eastern China to western Asia, which was traveled for 3000 years. After going through the enormous Taklimakan Desert (if you made it through – the name means, more or less, "If you go in, you won't come out"), then the caravans came to the oasis town of Kashgar, where they rested and regrouped before starting the even more deadly next part of the trip – crossing the Himalayas. Many people simply stayed there, and the city grew in size and wealth.
Look for the farthest city in the west -- there's Kashgar: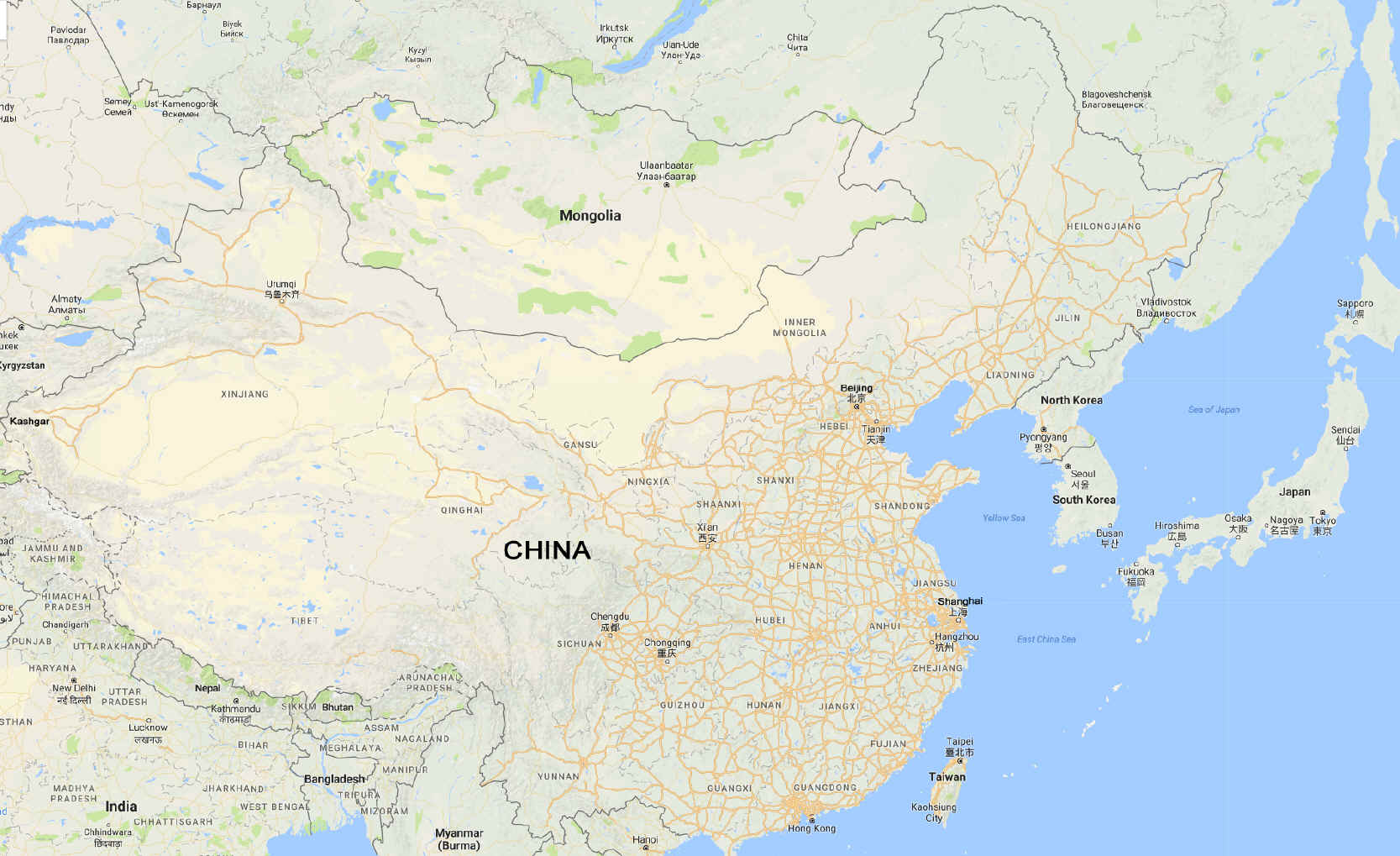 The Old City, even though it has been rather modernized and reconstructed, is very charming, even beautiful, and not at all like what we think of as Chinese architecture -- because it isn't. The local people, the Uighurs, are an interesting race, looking just as you might expect for a group located right between the Caucasus and the Orient – many have light-colored hair, but with the exotic eyes of the far East. Their language isn't even remotely related to Chinese, it is from the Turkic family, along with Kazakh and Uzbek, and uses the Arabic alphabet. They are a quiet group, who generally ignore tourists, which is good – there are none of the usual pushy guys on the street trying to drag you into their shops and stores. Things are cheap here – the Xinjiang Sultan, an old hotel of faded glory with the best location in town, is $36 a night, and a block away across the street is a fabulous exotic outdoor food market, in full swing every evening.
The Old City of Kashgar: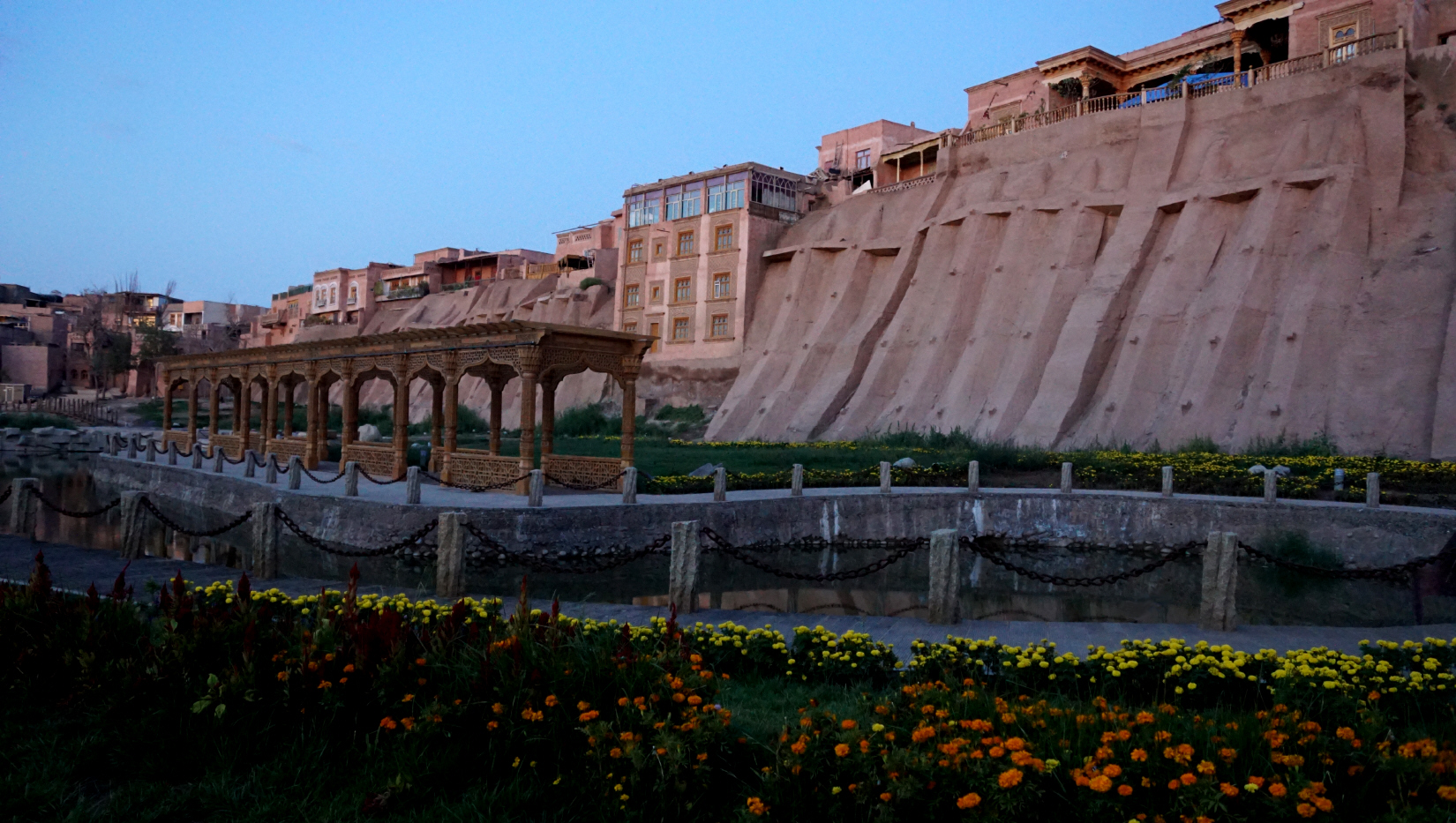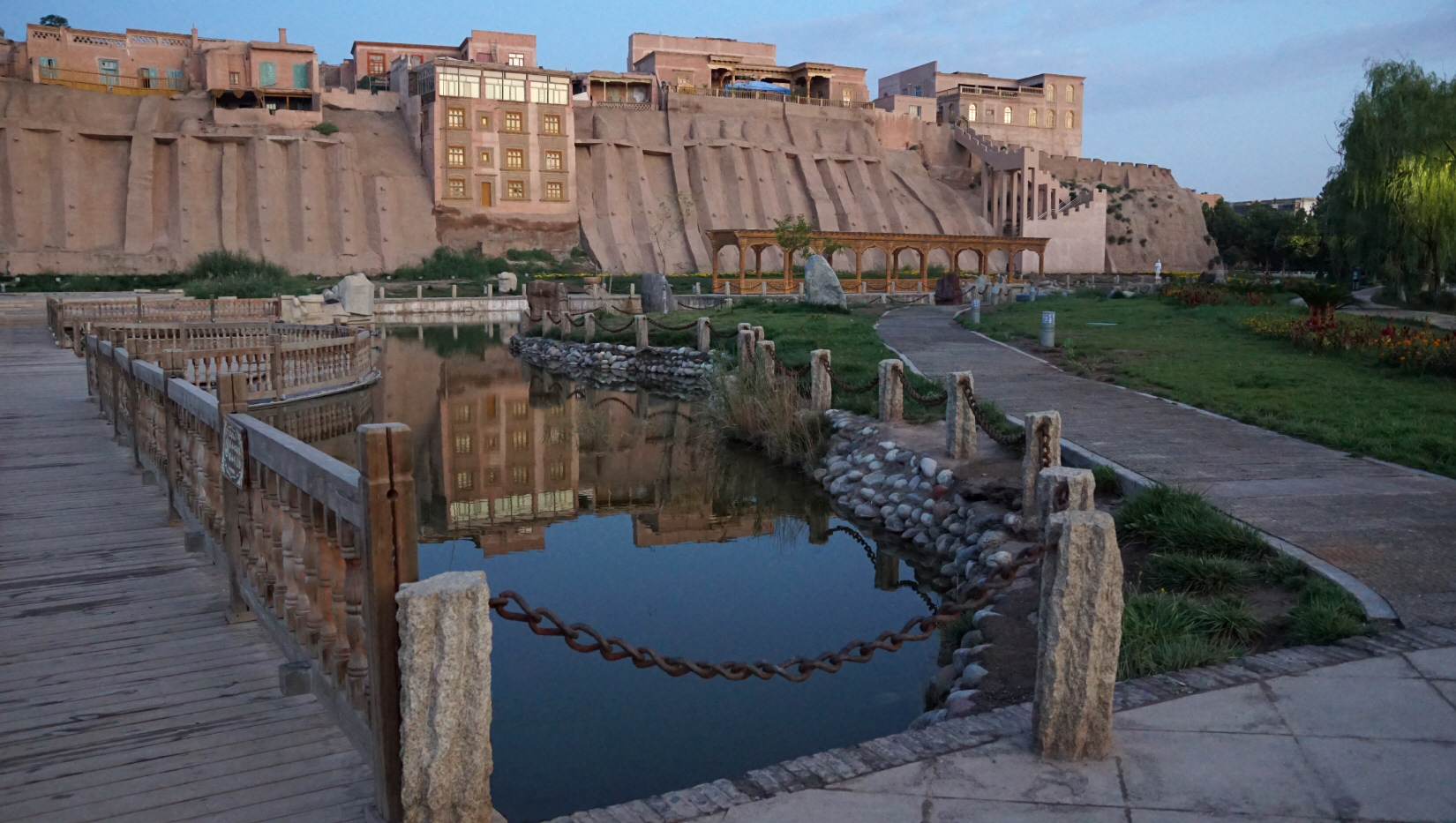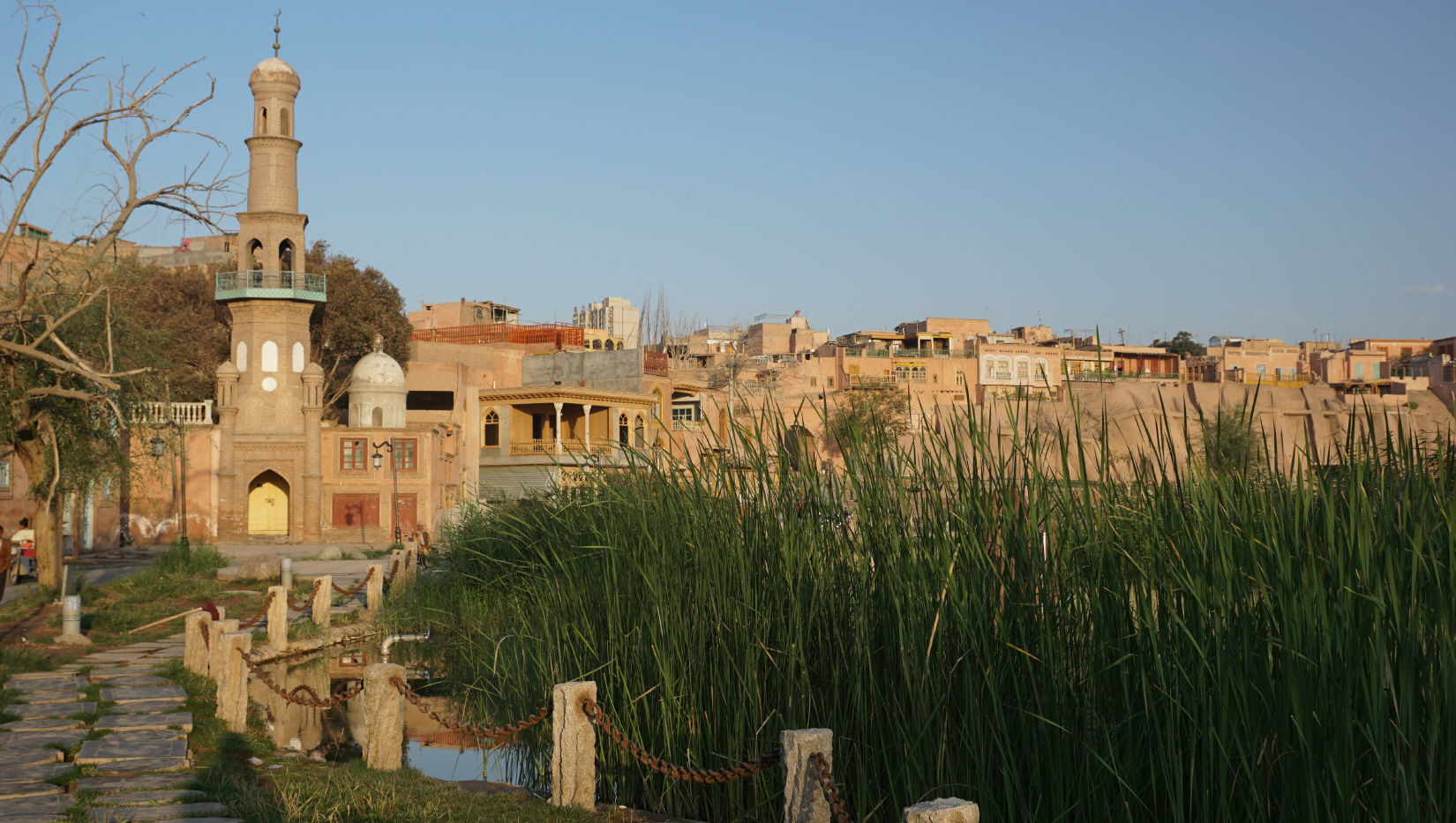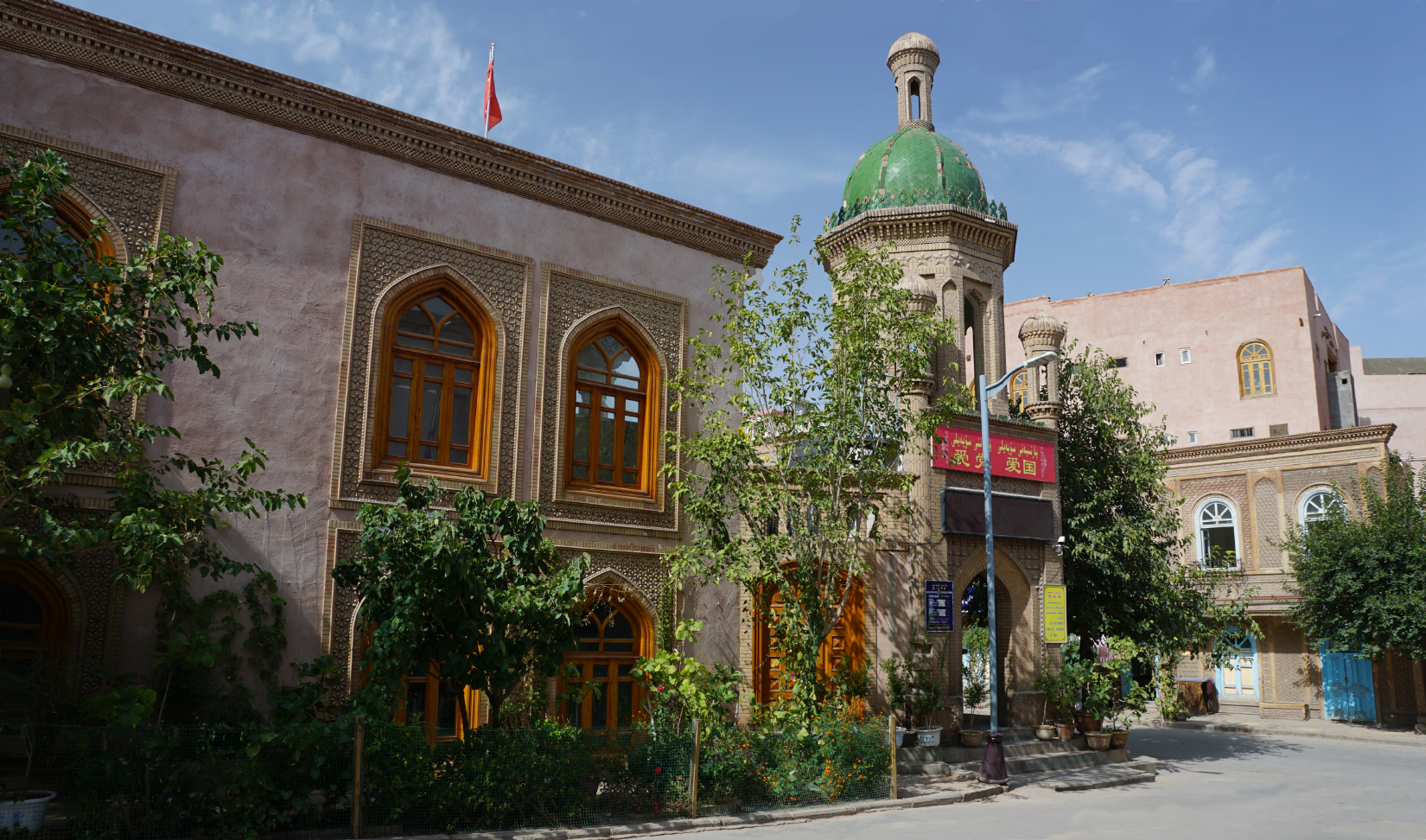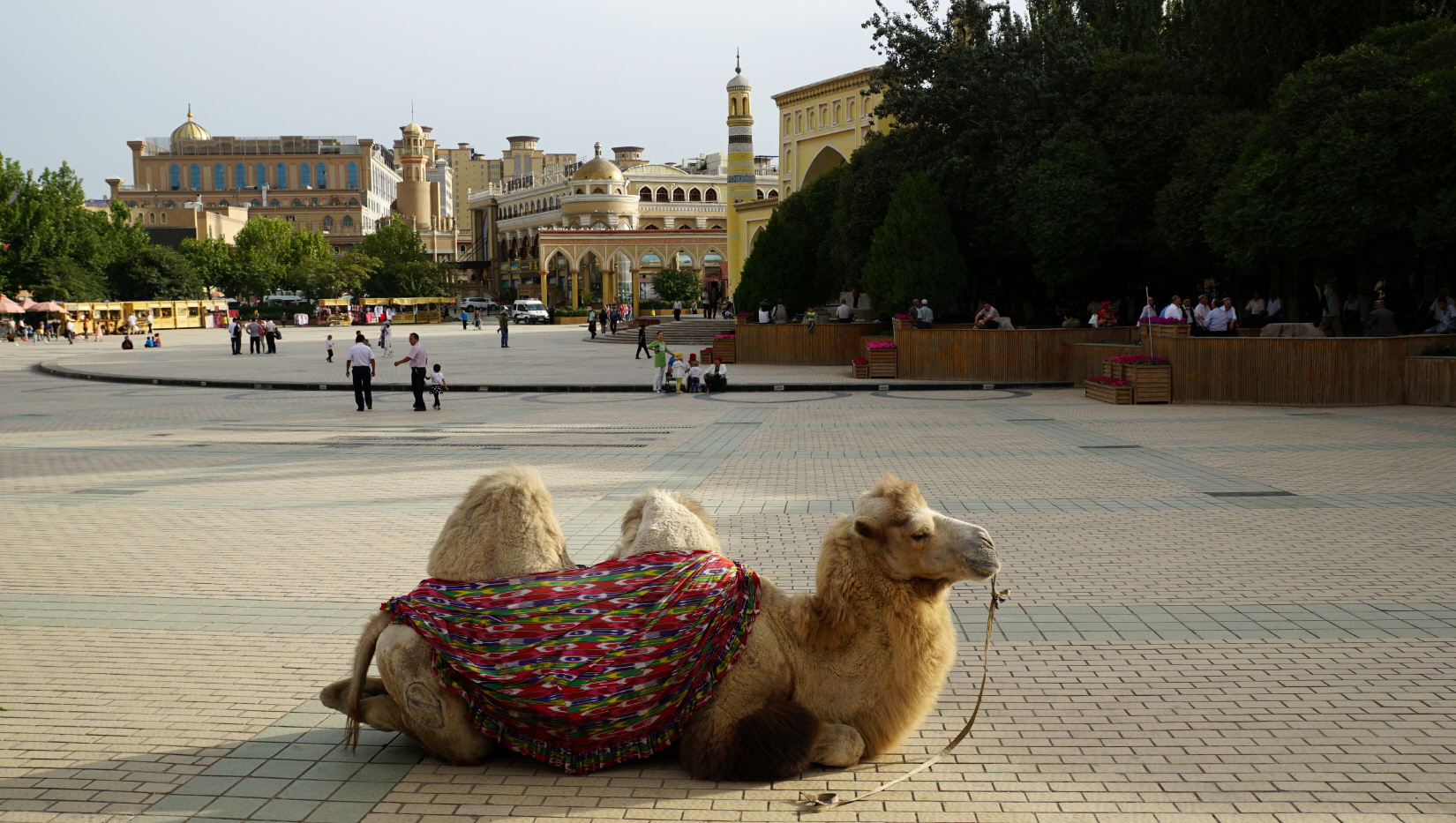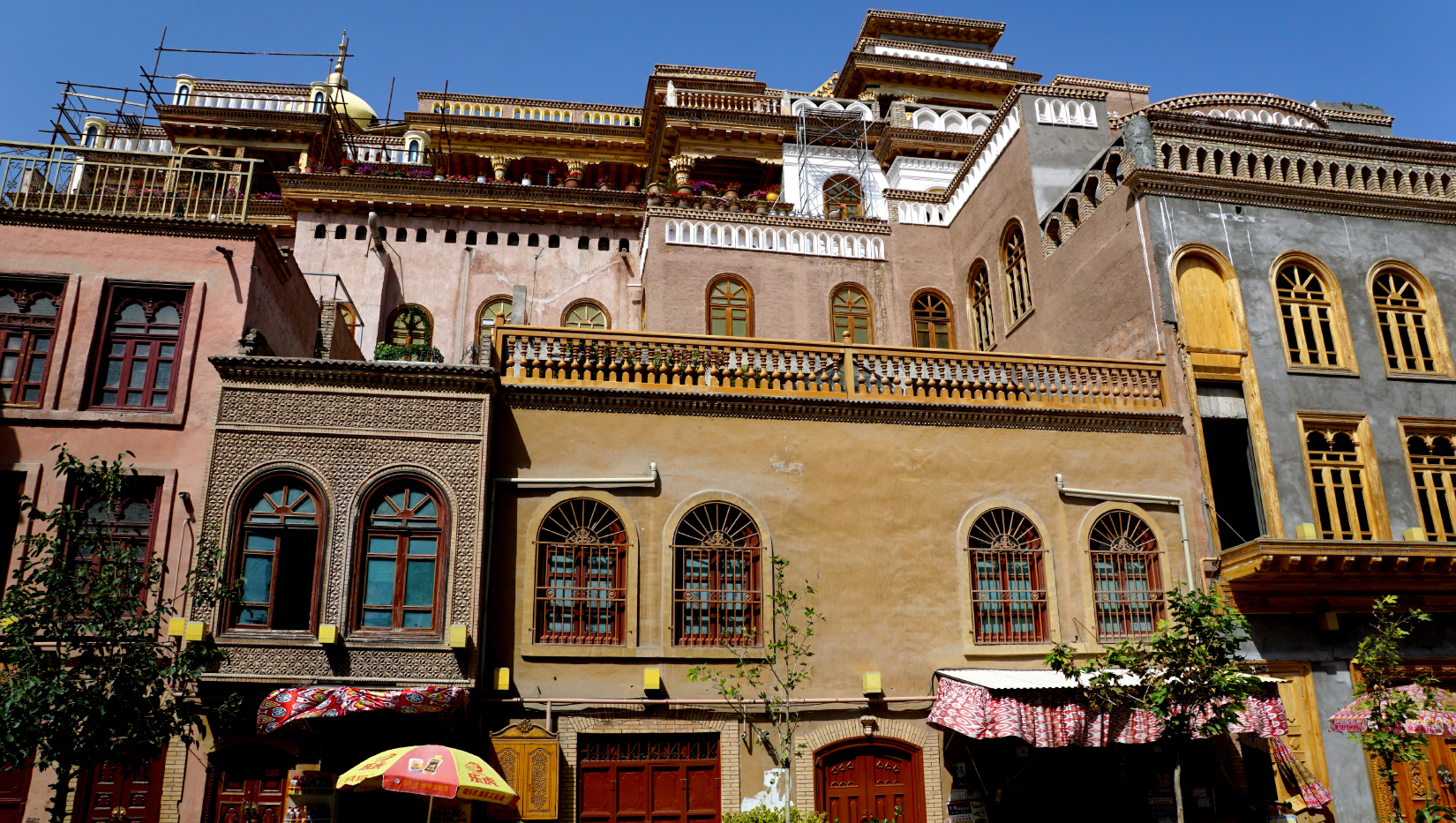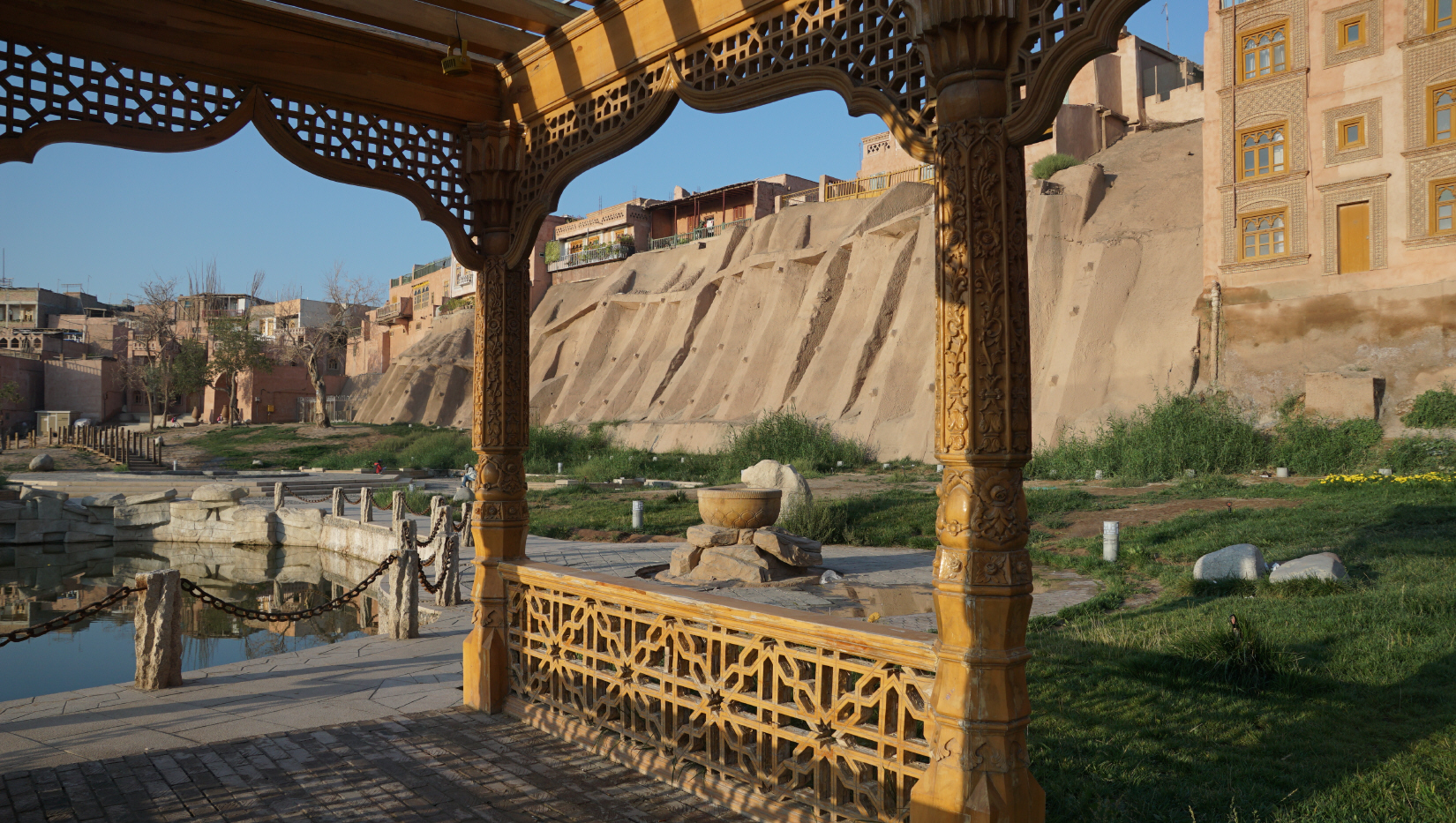 The Uighur people: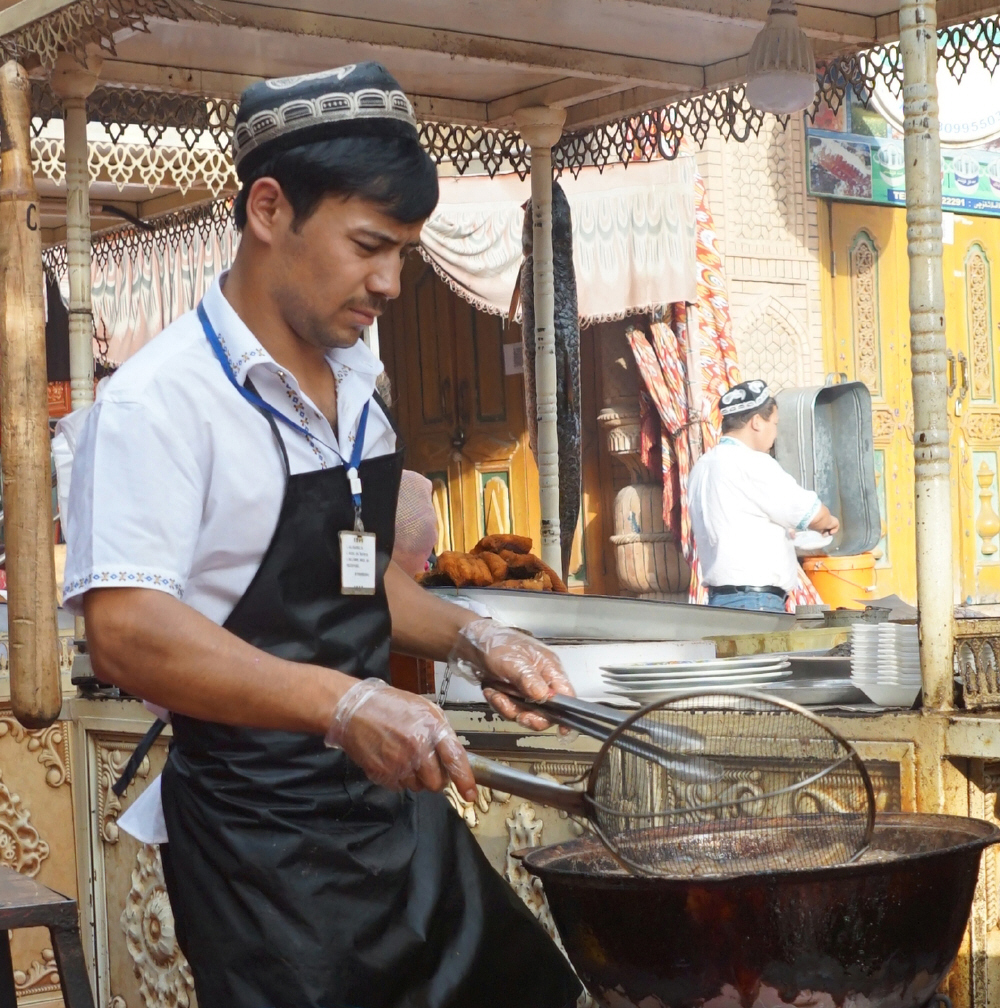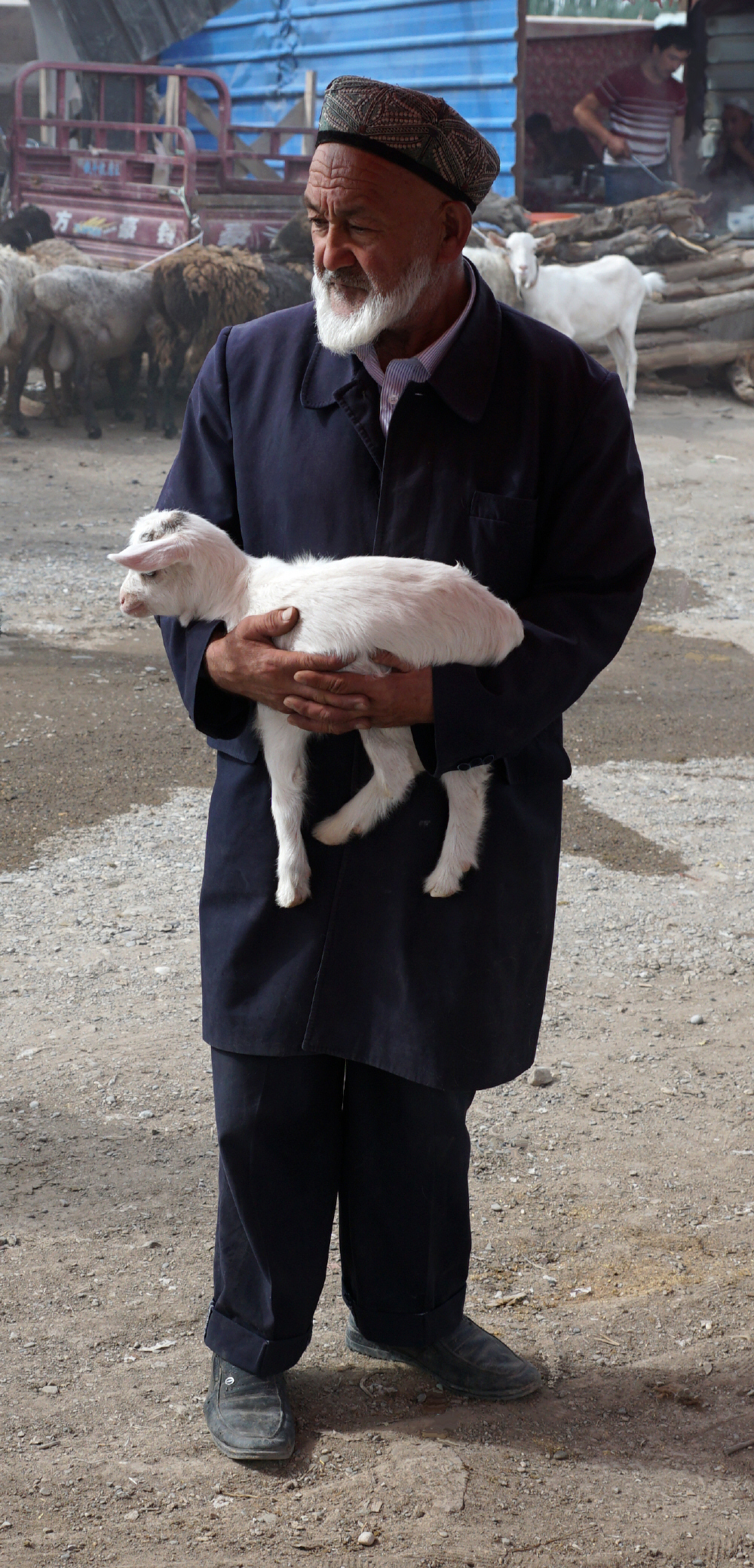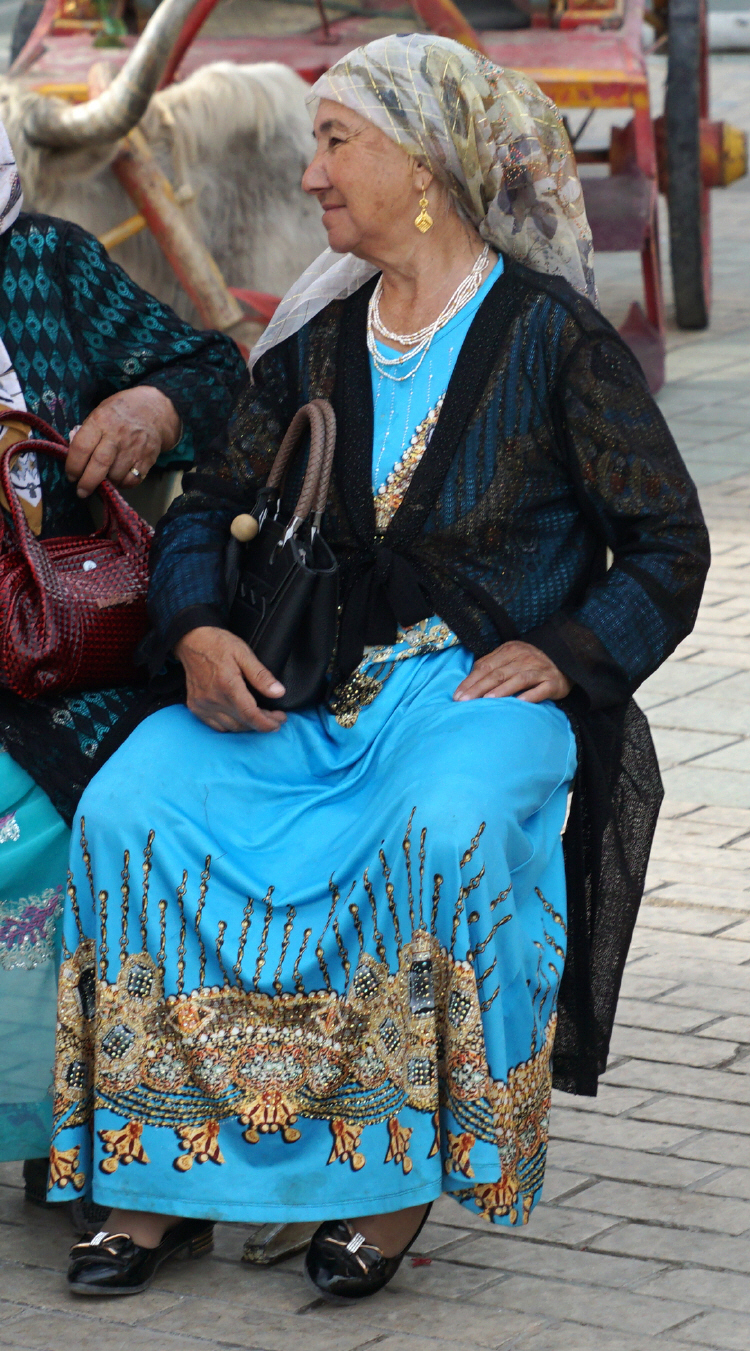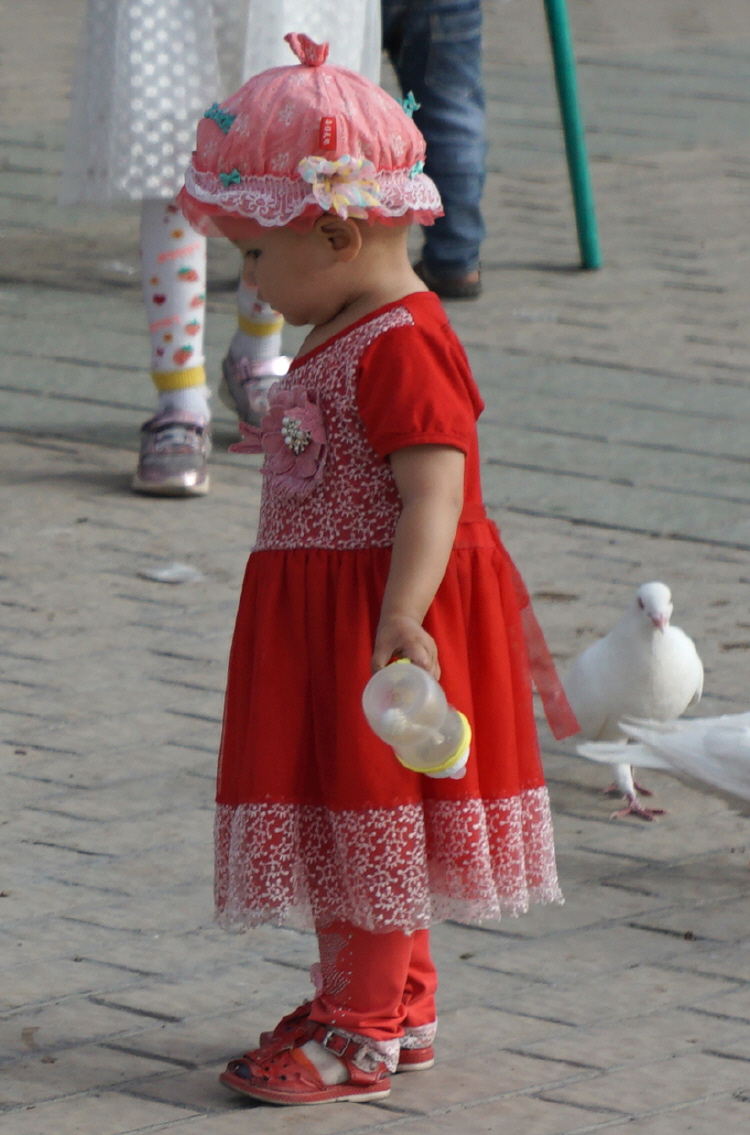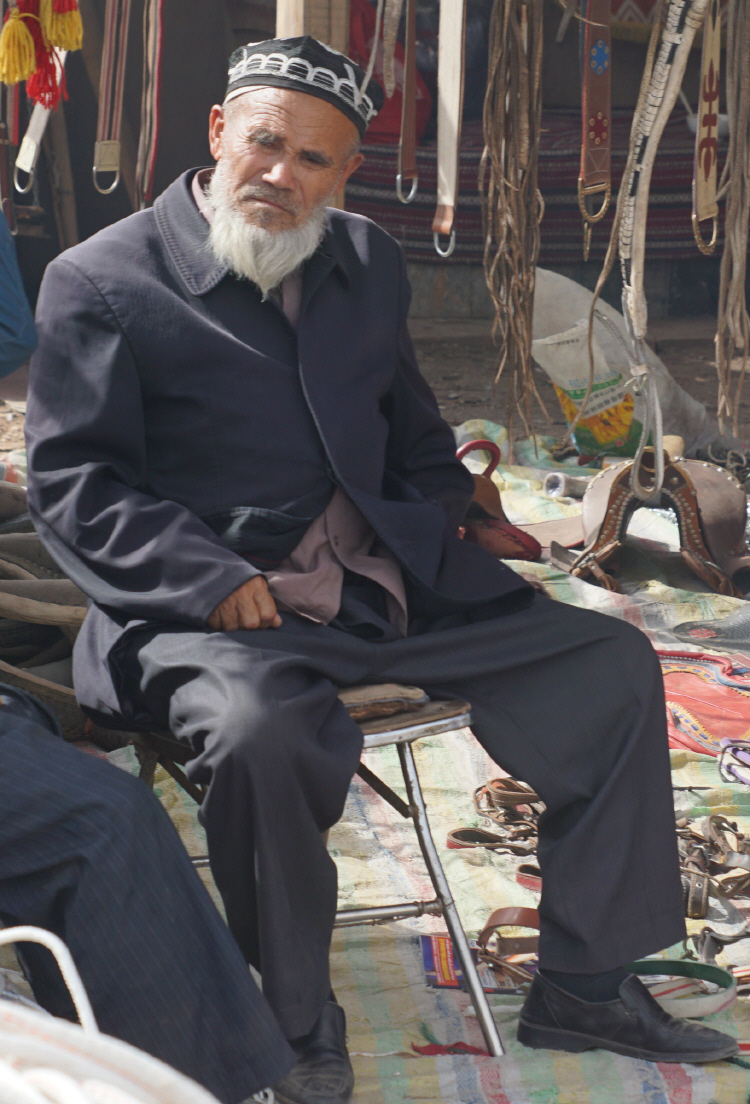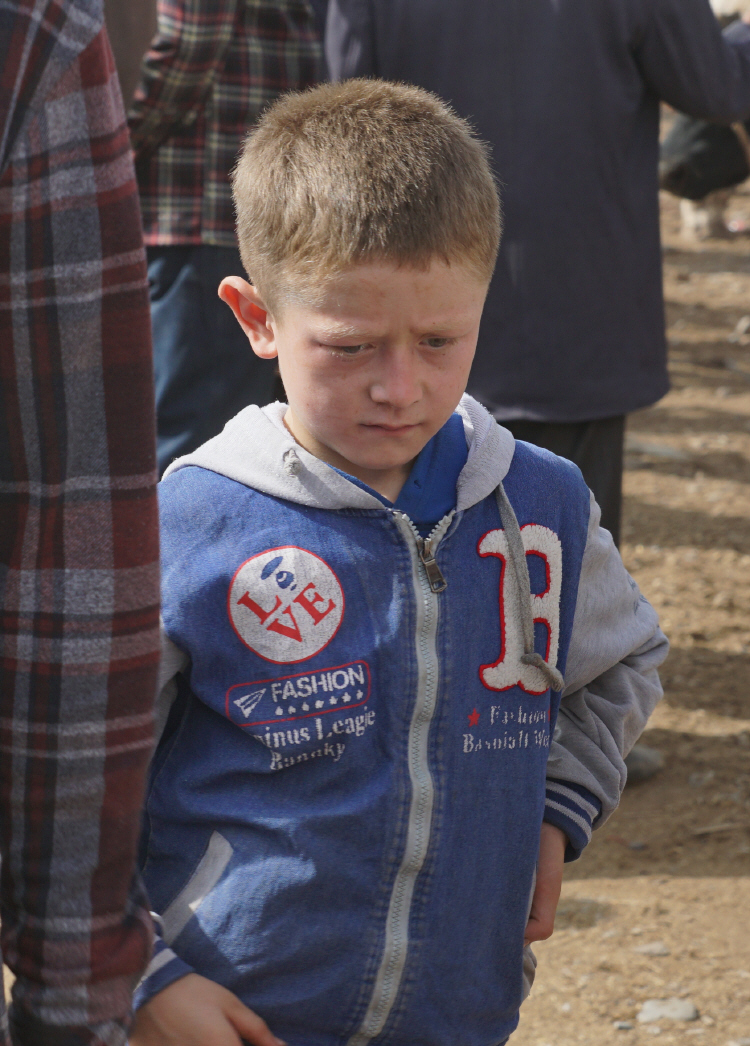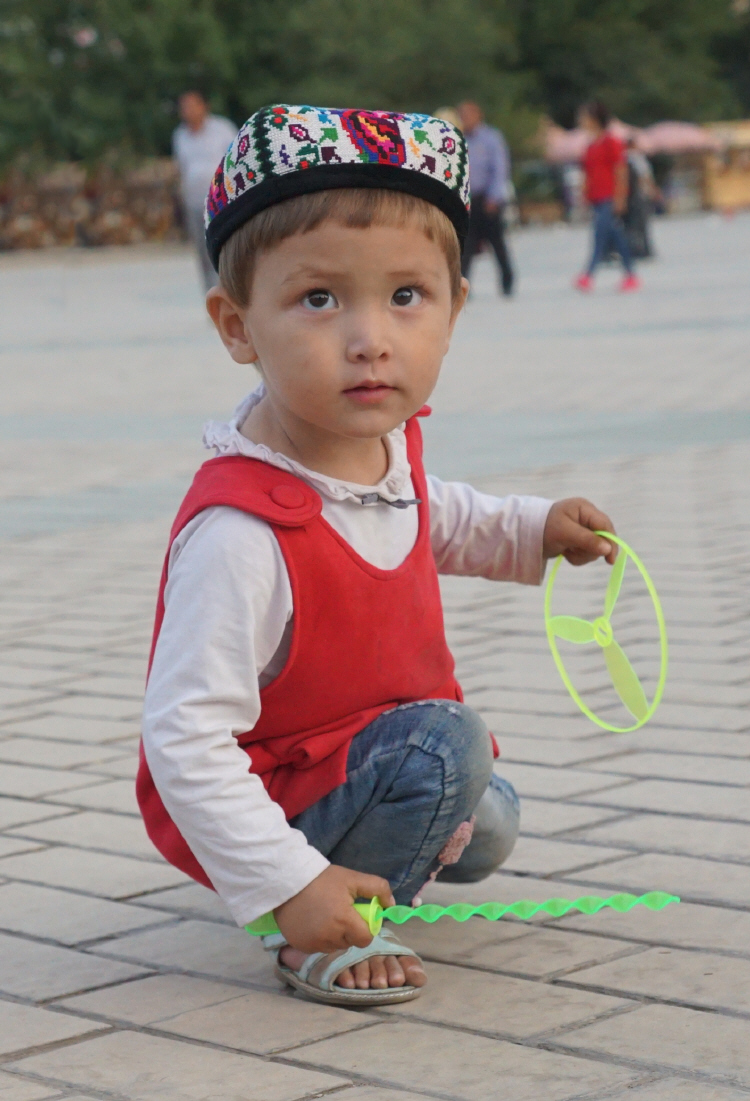 But the reason I was here was for the great Shipton's Arch, or Tushuk Tash as the Uighurs call it, which simply means "Hole Rock". It was "discovered" in 1947 by Eric Shipton, though a few locals already knew of its existence. The Guinness Book of World Records listed it for many years as the tallest arch on earth. However, years later when they tried to reconfirm the listing, nobody could find the arch again! So it was taken out of the books. It wasn't until May of 2000 that it got "rediscovered". The few who managed to make the long trek to see it came back with scary stories of how hard it was to get there, and rapturous stories of what a glorious sight it was – one of the greatest spans on earth, in an utterly unspoiled, remote natural setting.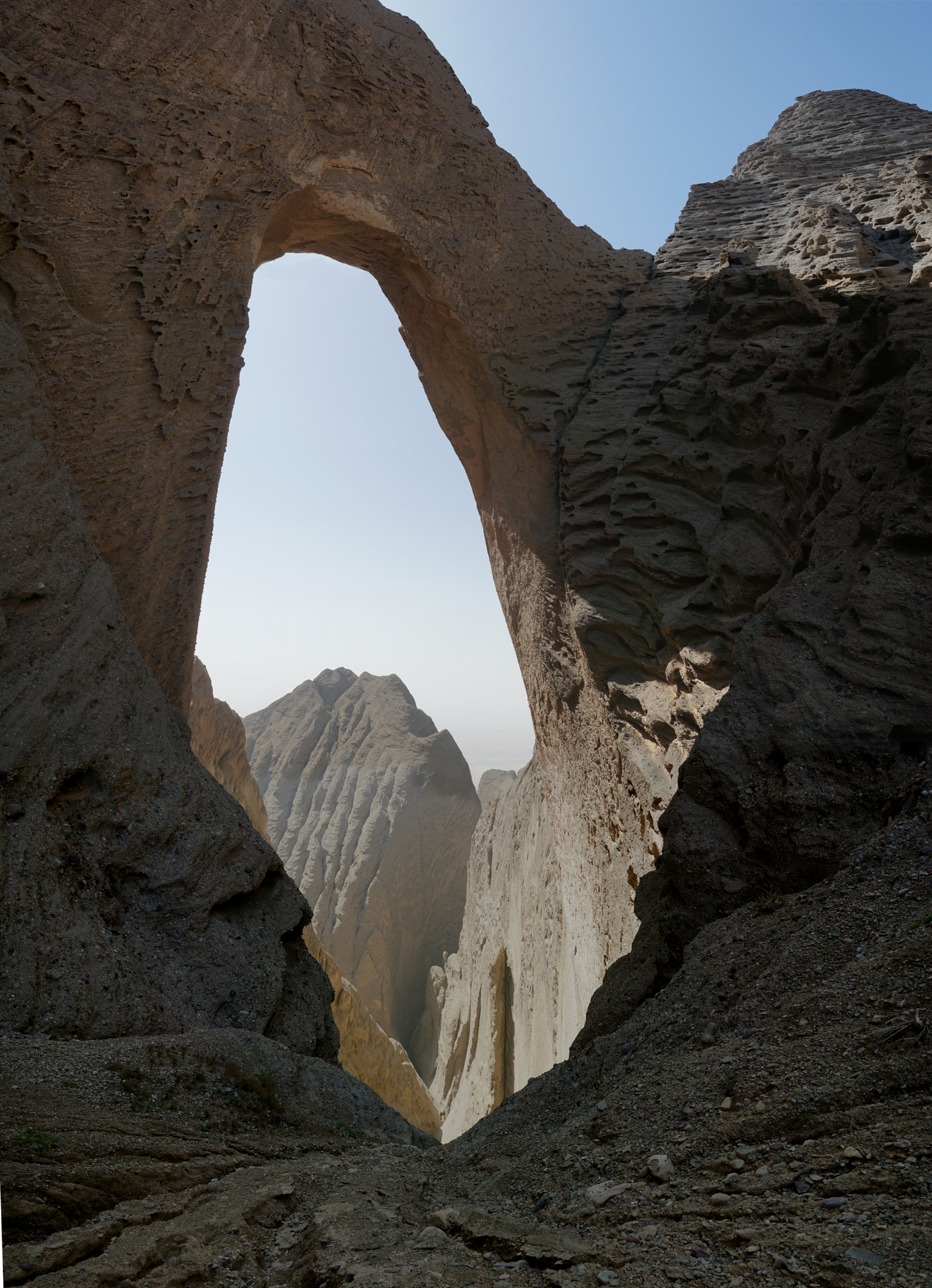 I knew, some day, I had to go. Pictures of it have never been satisfactory – there is no way to get the whole thing in one shot – in fact, you can't even see the whole thing in person, or even half of it; the opening plunges so far below the ridge you have to stand on to see it, that you can't even begin to see the bottom. It isn't the widest arch in the world by any means, though at 180 feet wide it's impressive enough. But, depending on what you decide to call the bottom of it, the opening has been estimated at 1200 feet high -- meaning you could almost put the Empire State Building inside it. It's so hard to measure, exact numbers may always be controversial.
I had just spent three days in Kazakhstan at the Expo 2017 World's Fair in the amazing modern city of Astana, then a couple more in Almaty, another ancient Silk Road city. I knew I would never have a better opportunity, so this was the time to somehow get to Kashgar, and visit the arch. That isn't so easy. You can't just fly the 260 miles straight south from Almaty over Kyrgyzstan to get there. You have to fly 540 miles east to Ürümqi, China, arriving at 1:30 a.m., spend 6½ hours desperately trying to sleep on benches in the noisy airport, then fly 670 miles back west to Kashgar. Those times are a bit relative, actually; China spans five time zones, but for "national unity" it insists that the whole country be on the same time zone – that of Beijing, naturally. The Uighurs just had to get used to the sun coming up at 10 a.m.
I had worried before leaving home that being the one tourist in 10,000 who enters China for the first time by the back door, more or less, instead of entering like any other sensible tourist at Beijing or Shanghai, would be viewed as highly suspicious. Xinjiang, where Kashgar is, is the most rebellious, restive part of the whole country, with a great desire, like Tibet, to break away for independence. China has brutally squashed several revolutions over the years. But the Chinese consulate in Houston had given me a visa, after 15 hours of preparing documents and paying a ridiculous $270 for it. Off I went to Kashgar, the most exotic place I've ever been.
The girls at the hotel desk hardly knew any English, so I just showed them a picture of the arch, and they immediately knew what I wanted. They called some guy, somewhere, I never knew quite who or where he was, but he had excellent English. I told him I wanted to go see the arch, and he said he could arrange a driver to pick me up the next day. (You can't rent a car in China without a Chinese drivers license, and you probably wouldn't want to anyhow). It would cost ¥800 ($120) – I was to give ¥400 to the hotel as a down payment right then, and pay the rest to the driver when he brought me back the next day. That all worked out just fine, though the driver only charged me ¥300 the next day! I asked the guy on the phone if he had ever been there. "Many times," he said. So I asked, "When would be the best time to go, when would the light be the best for pictures?" "In the morning, definitely in the morning," he said.
The next morning at 9:30, the driver was there. He also knew no English at all, but knew exactly how to get to where we were going. He drove calmly and carefully as we left the city, along the beautiful wide boulevards lined with decorative street lamps and thousands of tall planted birch trees. Soon we came to a police inspection station, where I had to show my passport – make sure you take your passport if you go! They check it both ways. Apparently a foreigner going to see the arch caused no suspicion, and we were waved right on through. We were soon out of town, on a winding country highway. Then the driver threw off his seat belt, and turned into a passing maniac. Every vehicle on the road had to be passed, no matter if there was a hill, a curve, a solid line, or all three. Didn't matter. Since most of the traffic was comprised of motor scooters, passing was usually easy, he just scared them off the road; but there were also a fair number of large trucks that he felt compelled to pass, sometimes two or three in a row at a time. There weren't but a few other ordinary cars, like ours, but they all had the same mania for passing; it became a competition, with the same cars passing and being passed, over and over. Even when there was nothing to pass, the driver spent an inordinate amount of time straddling the line, or clear on the wrong side of the road. This went on for an hour, as we drove through several villages and climbed higher into the hills.
The arch is somewhere back in there!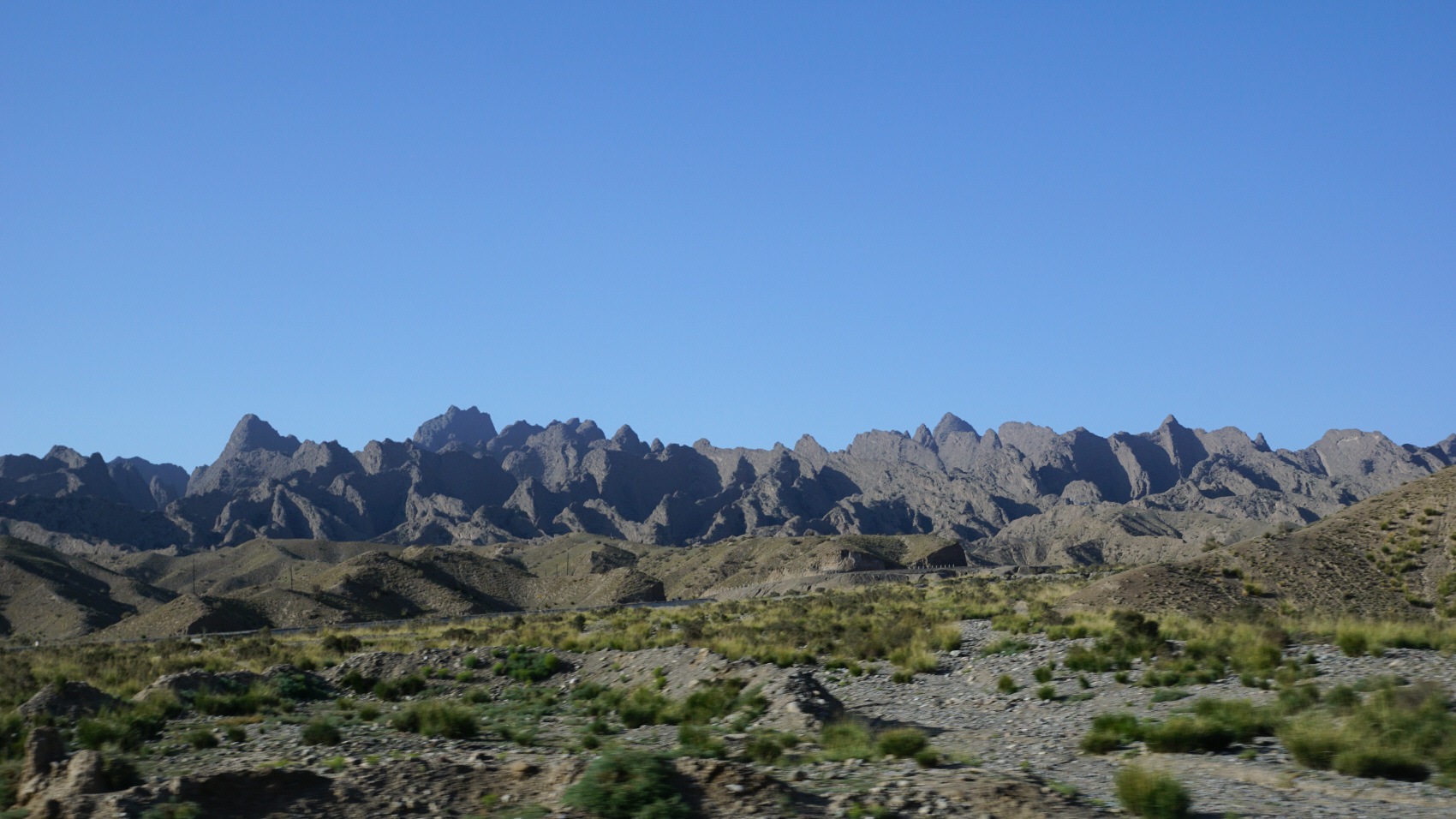 After nearly an hour, we came to a turnoff that I recognized from pictures, where a very large rock with Chinese writing has been set up, apparently announcing this road as being the way to the arch. It is quite a new road, with practically nothing at all along the sides but a few goats; obviously it was built just for easier access to the arch. Yes, the Chinese are determined it is to be a major tourist attraction, as I found out.
We traveled the road, quite twisty and scenic, for 20 minutes, higher and higher into the hills, which quickly became mountains in the distance. Then we came to the large parking lot, with only a few cars and one tour bus in it, and the odd-looking visitor center. I was glad it was unobtrusive, and completely out of sight from the arch itself – a couple miles, as it turned out. I didn't go in it, my driver got me my ticket, which was only ¥45 (less than $7), and pointed me the way to go. So off I went. I had bought, the night before, a couple of large bottles of water, an apple, and an energy bar to take with me. The weather was perfect, the sky was clear – and I was a bit worried. In fact, I had been worried for a month; was this hike going to be easy, hard, or impossible for me? I had heard there were many hand-over-hand scrambles along the route in the past, with rickety ladders set up in places, but that some permanent staircases had been set up since to make things easier. But still, was it going to be a pleasant uphill stroll for the most part, or a long, killer mountain ascent? I had no way of knowing. What one person describes as an easy hike can be a true horror to someone else.
The visitor center: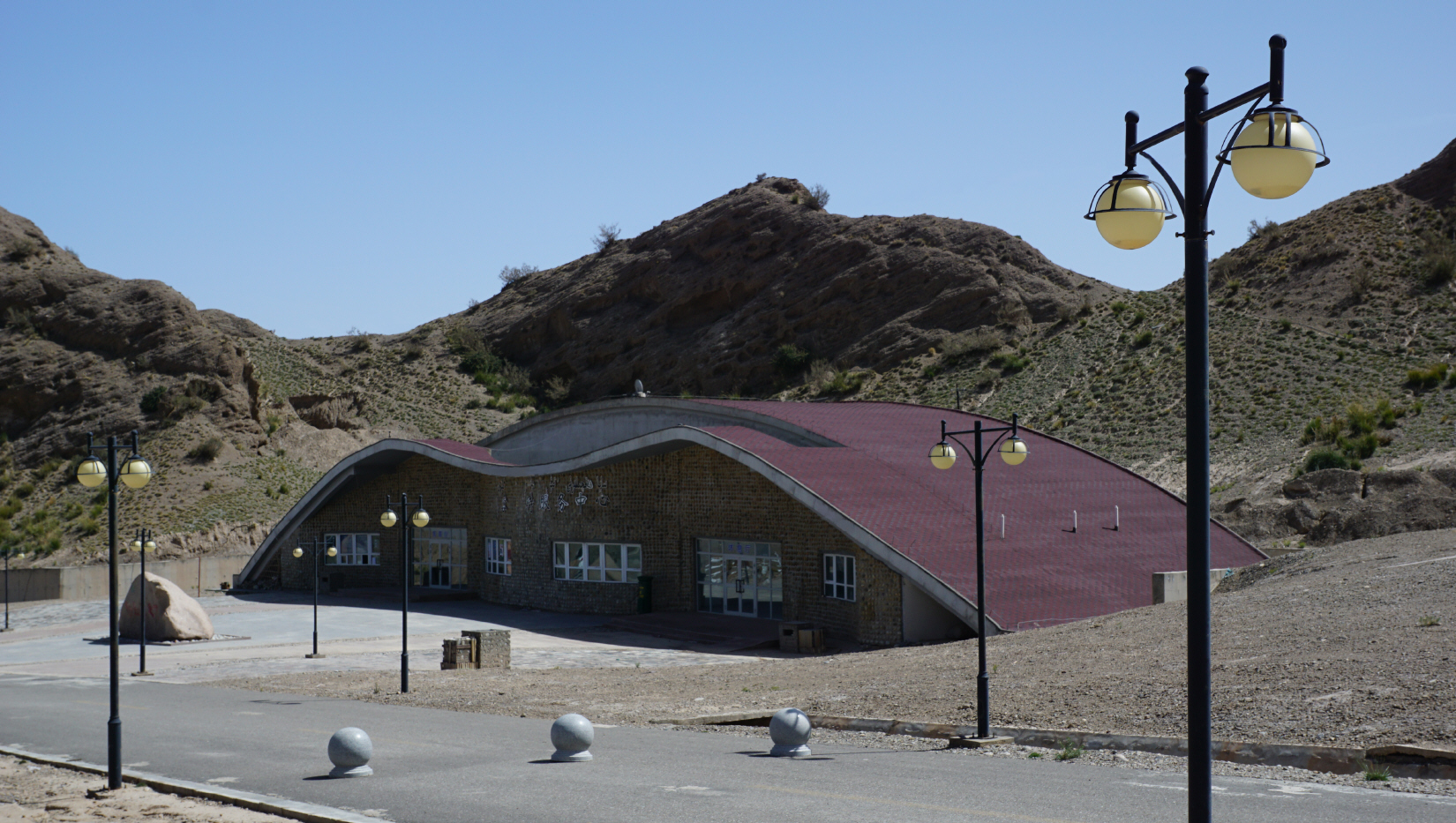 The first part of the walk was inexplicably on the same new paved road we had come in on, which continued a half-mile uphill beyond the visitor center. It was barred off and no cars could use it; why couldn't they let cars on up to the end to drop people off? I know, I'm being two-faced, because I'm constantly complaining about unnecessary roads and sidewalks and construction at natural scenic places – but since it was there, why couldn't they let us use it? After a while, it came to a drop-off, quite literally. I climbed down into a broad dry wash, and headed uphill. There was no sign of a trail the whole way, not even any hoodoos, but it didn't matter because there is only one fork in the canyon, marked with the ever-so-helpful message on the rock below.
Take the left fork here!
The wash wasn't all that easy to walk in, being so full of gravel that even years of visitors hadn't managed to make a path through it. Then the gravel turned into rocks. Then stones. Then boulders. This was prime ankle-twisting ground! There was nothing to do but carefully step from one to the next, many of which tended to wobble or roll. They were amazingly variegated in type and color, many of them quite beautiful. All the while, the slope was getting a bit steeper.
The boulders: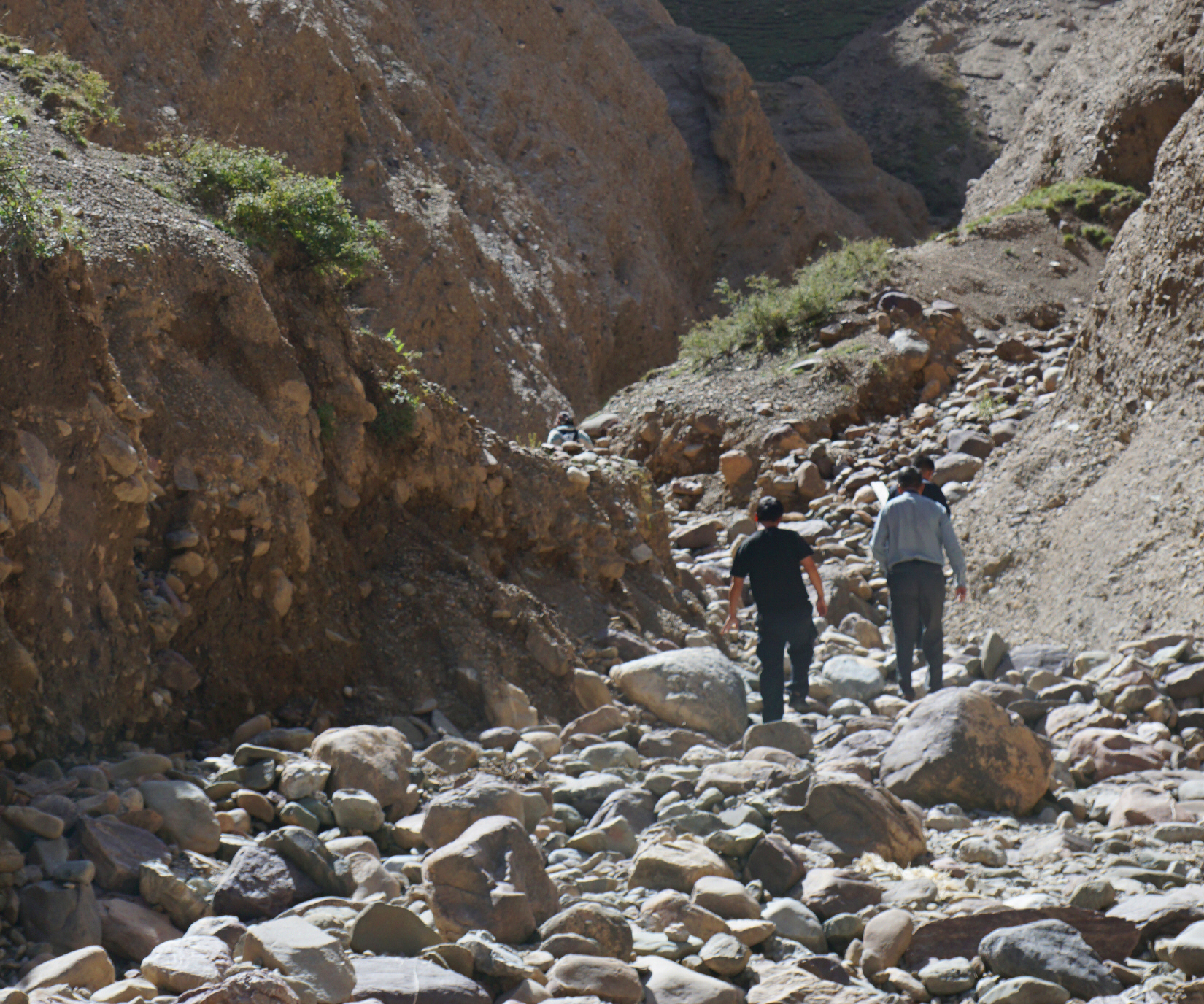 The little valley wasn't as pristine as it should have been. For a place that had been totally unknown not that long ago, why did it suddenly now need to be the location of large solar panels and power lines? If they had felt the need to install them way down the road before the visitor center, that would have been understandable and not too obtrusive, but no – here they were halfway up to the canyon to the arch, as if there were not a million other locations in these mountains where they could have been hidden. There were also a few unneeded platforms with picnic tables and overflowing garbage cans.
It seemed most of the other visitors had gotten there long before I did (it took an hour and fifteen minutes from Kashgar to the parking lot, though it will take longer if you're lucky enough to have a normal driver). Quite a few were already making their way back down from the arch, almost all of them apparently tourists from eastern China, and hardly any local Uighurs at all. Unlike in the city, almost every person smiled and spoke, sometimes with a few words of English. Only one couple just walked right on past; I thought, well you can't expect all of them to be friendly to foreigners. Then suddenly the woman turned, said something excitedly to me, ran back and grabbed me by the arm, and wanted her husband to take a picture of her with the exotic American!
I figured that if all these people, few of whom were dressed like real hikers, had made it to the top (assuming they had), that perhaps the climb wouldn't be so difficult after all. And so far, it wasn't all that strenuous; you just had to really watch your feet. Then I came to the staircases.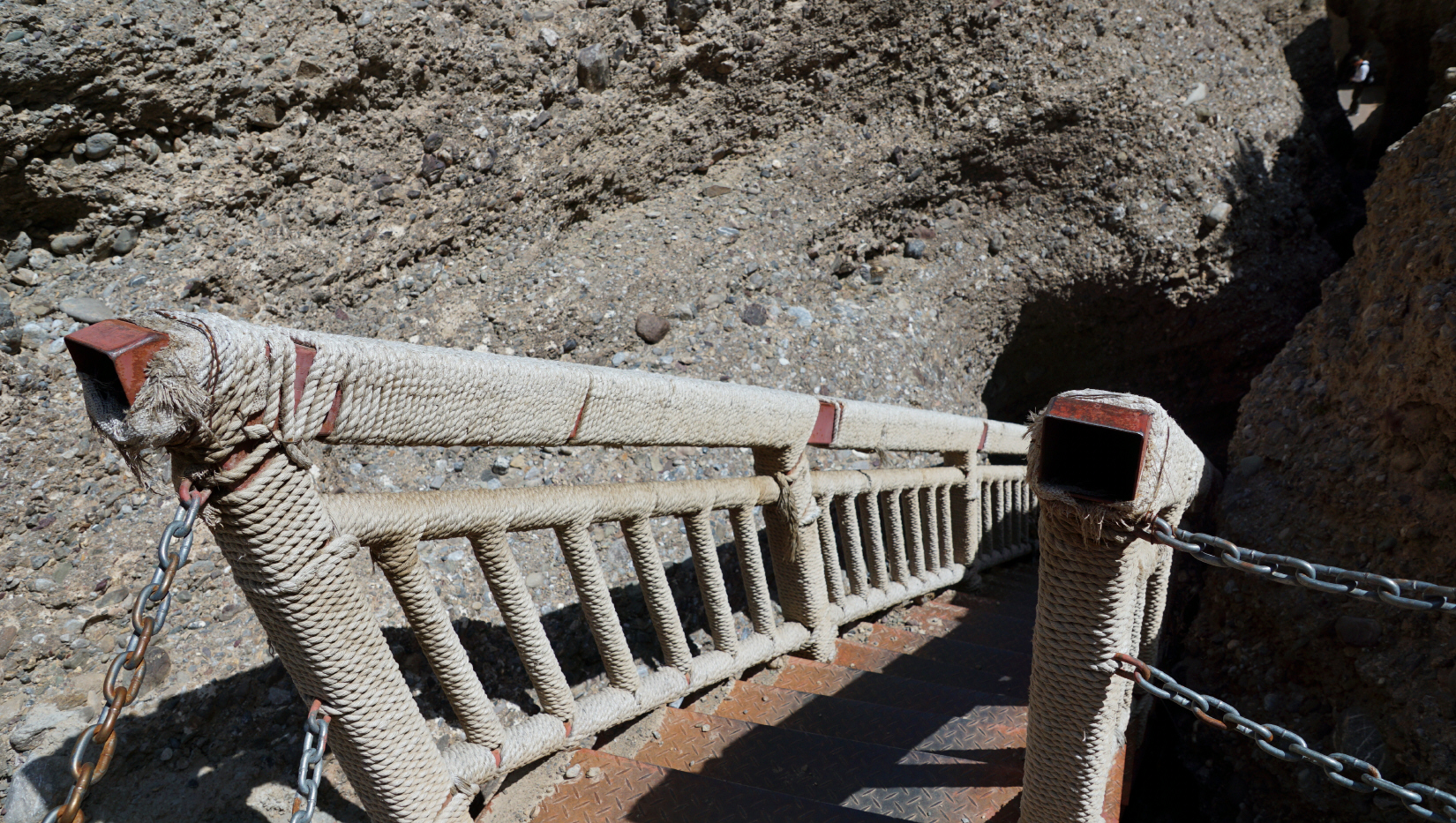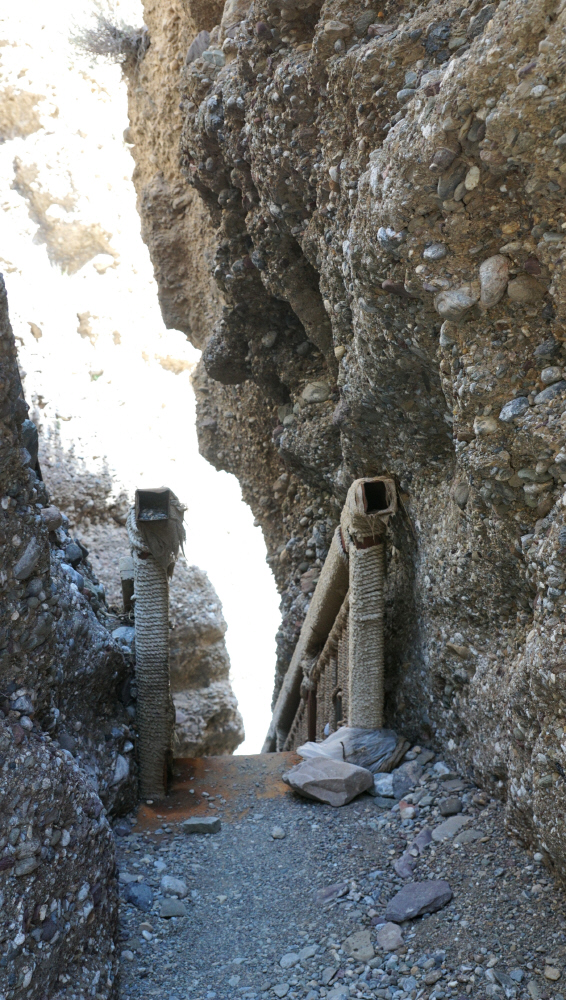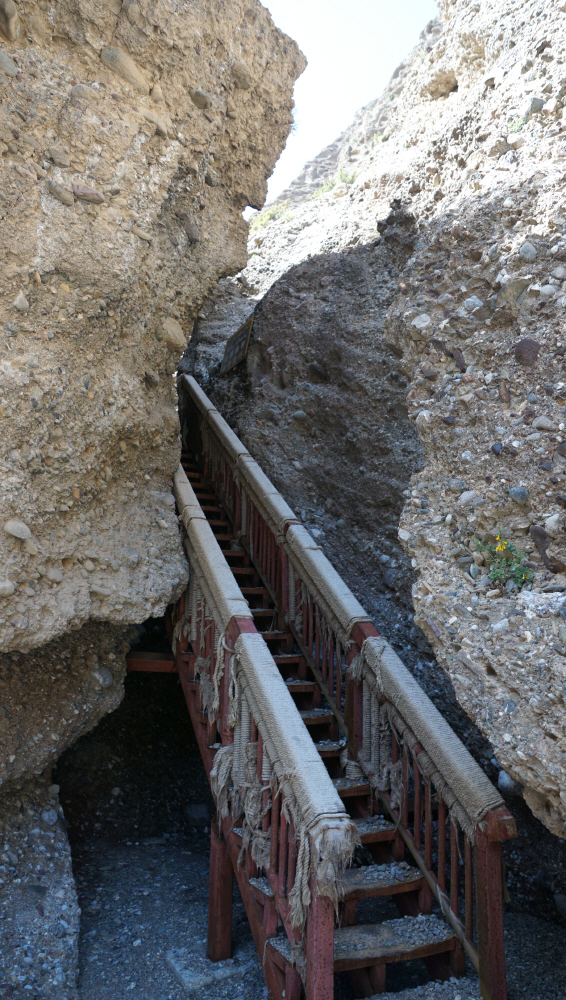 There is hardly anywhere along the route where you really have to use all fours to climb up anymore, because of the metal stairs. I didn't mind them too much, they are quite charmingly rustic-looking, and not in view of the arch at all. There are several sets of these stairs – about 182 steps in all, 4 of which go down. I say about 182, because it's kind of hard to be accurate with situations like this: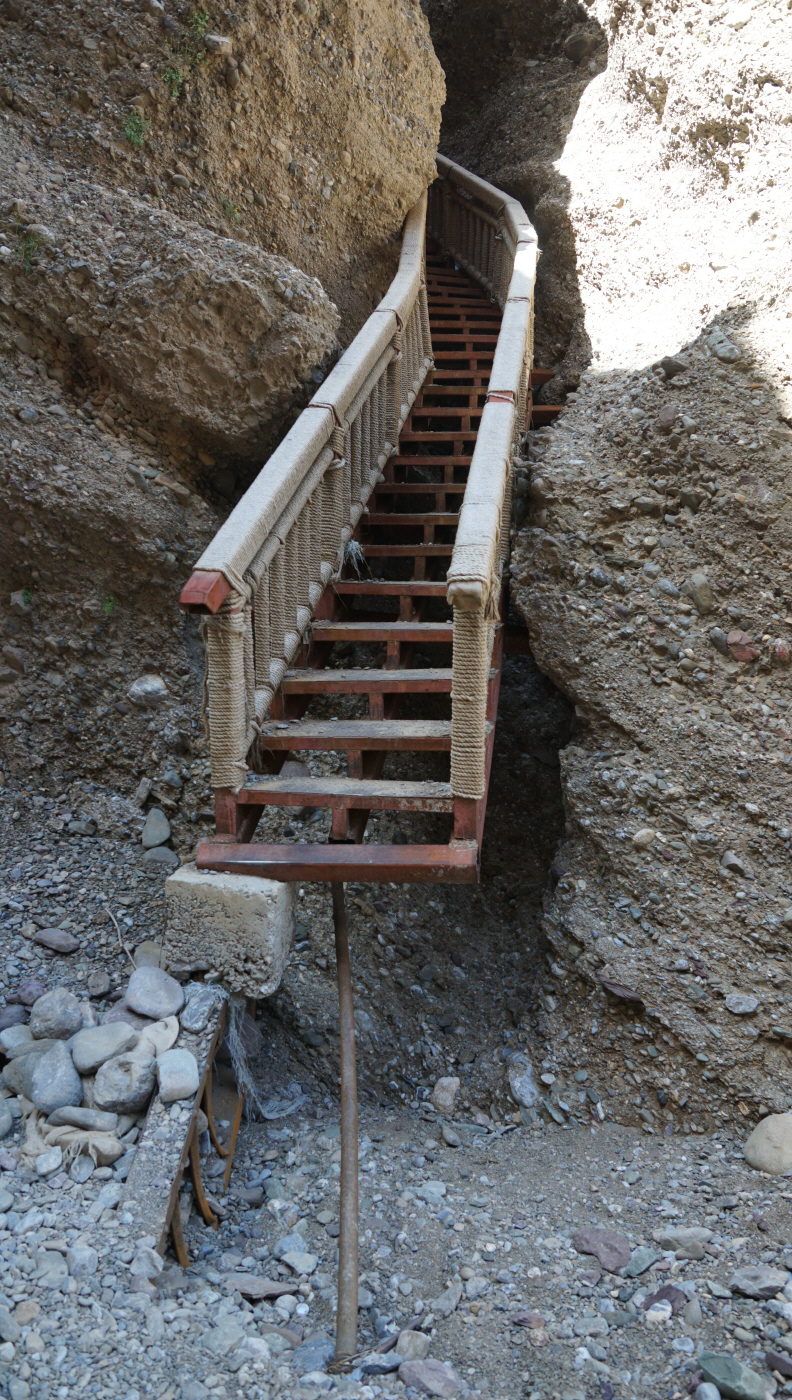 And then, quite suddenly, there it was. I had been carefully counting the steps, but that number flew right out of my head at the first sight of the arch! (I counted again on the way back to be sure.) After the last metal staircase, the top of the arch is easily visible for the rest of the way, so you no longer have to have that dreary how-much-farther-is-it feeling as you climb. Then the fun begins – the canyon narrows, the slope gets steeper, and the boulders get larger. This was no longer a moderate hike; but only once did I find myself crashing to the ground.
There wasn't one spark of sunshine on the arch. The sky was blue, without a single cloud – with deep dark shadows on the arch! Do not go in the morning! What lousy advice that was. One chance in a lifetime to get to the great Tushuk Tash, and I don't have a single decent clear picture to show for it. I am annoyed for life.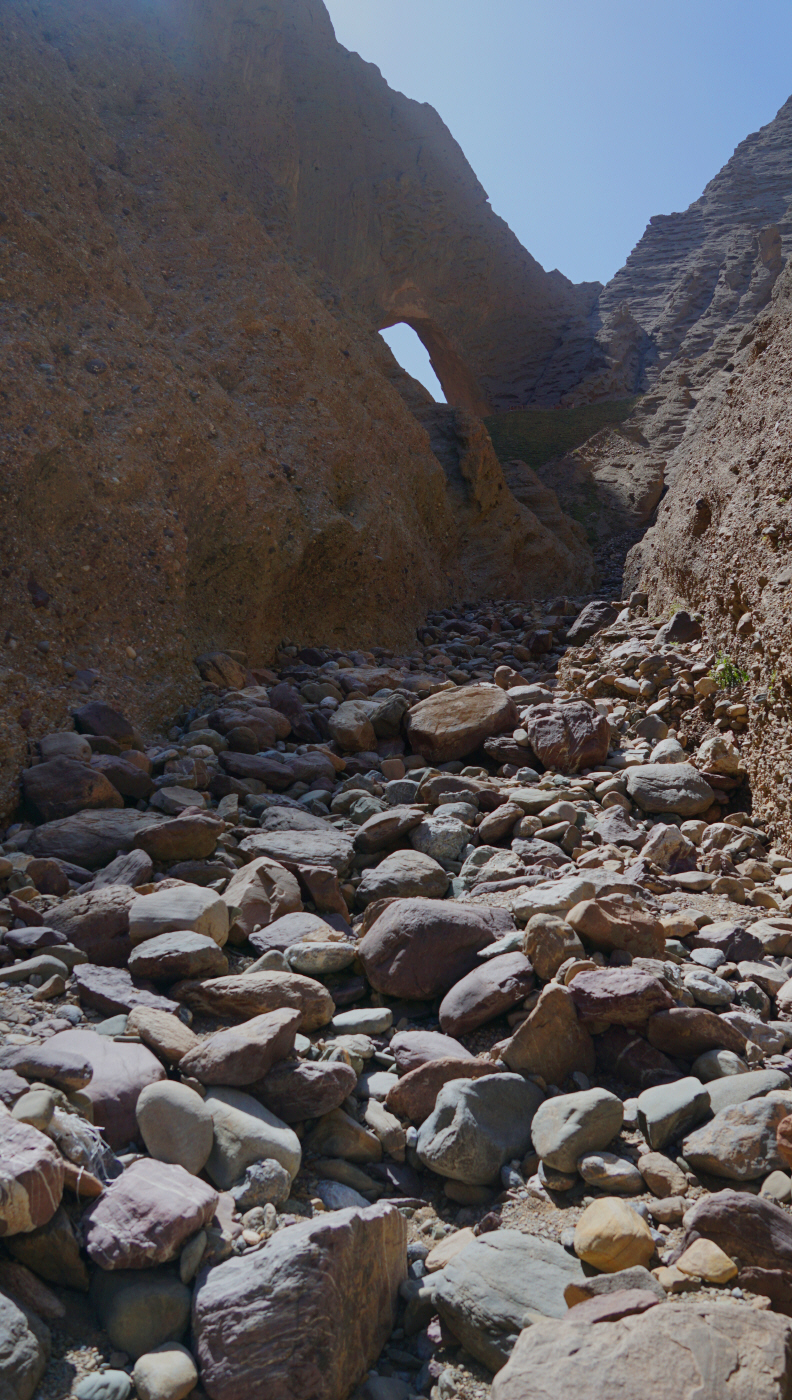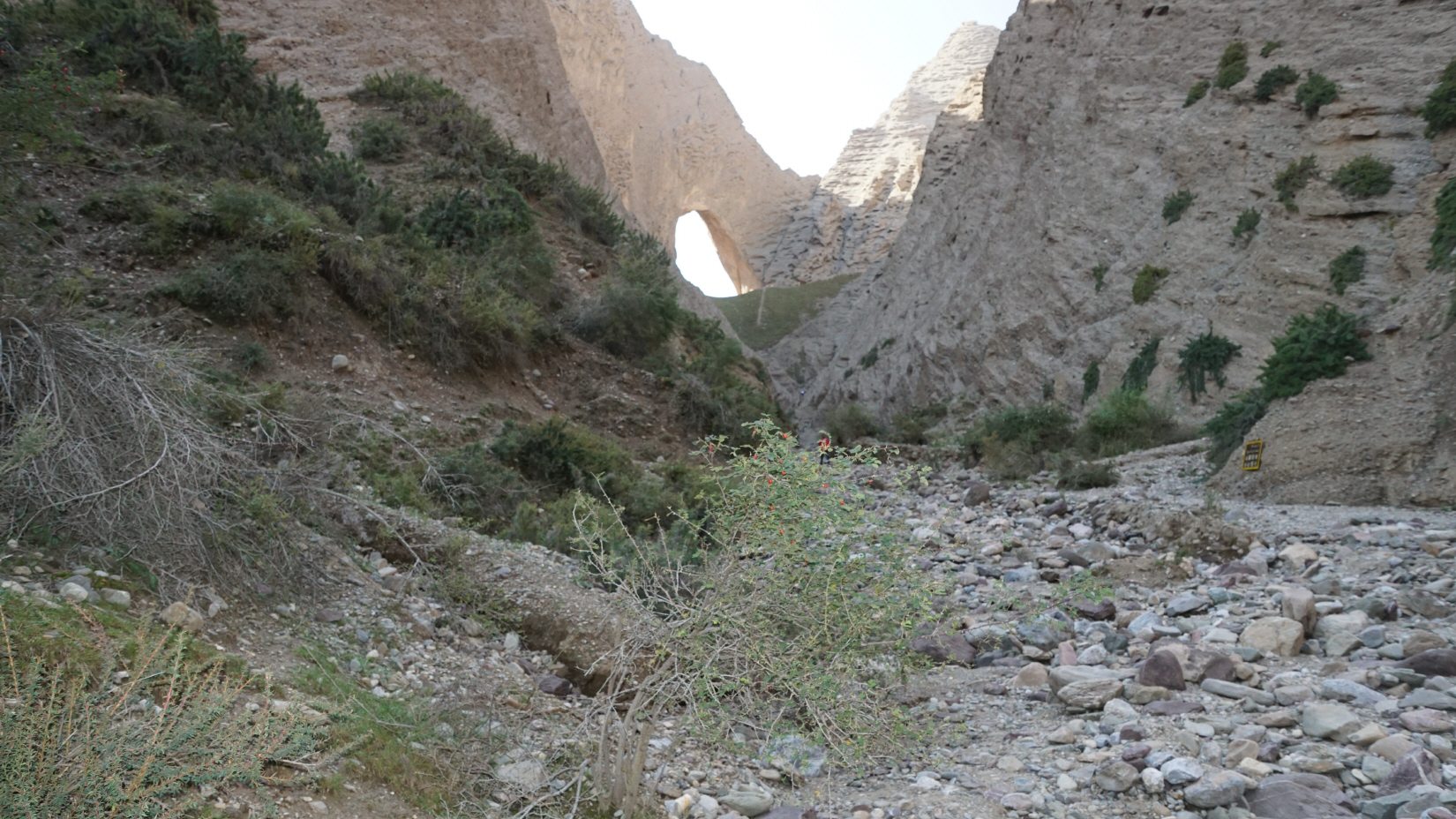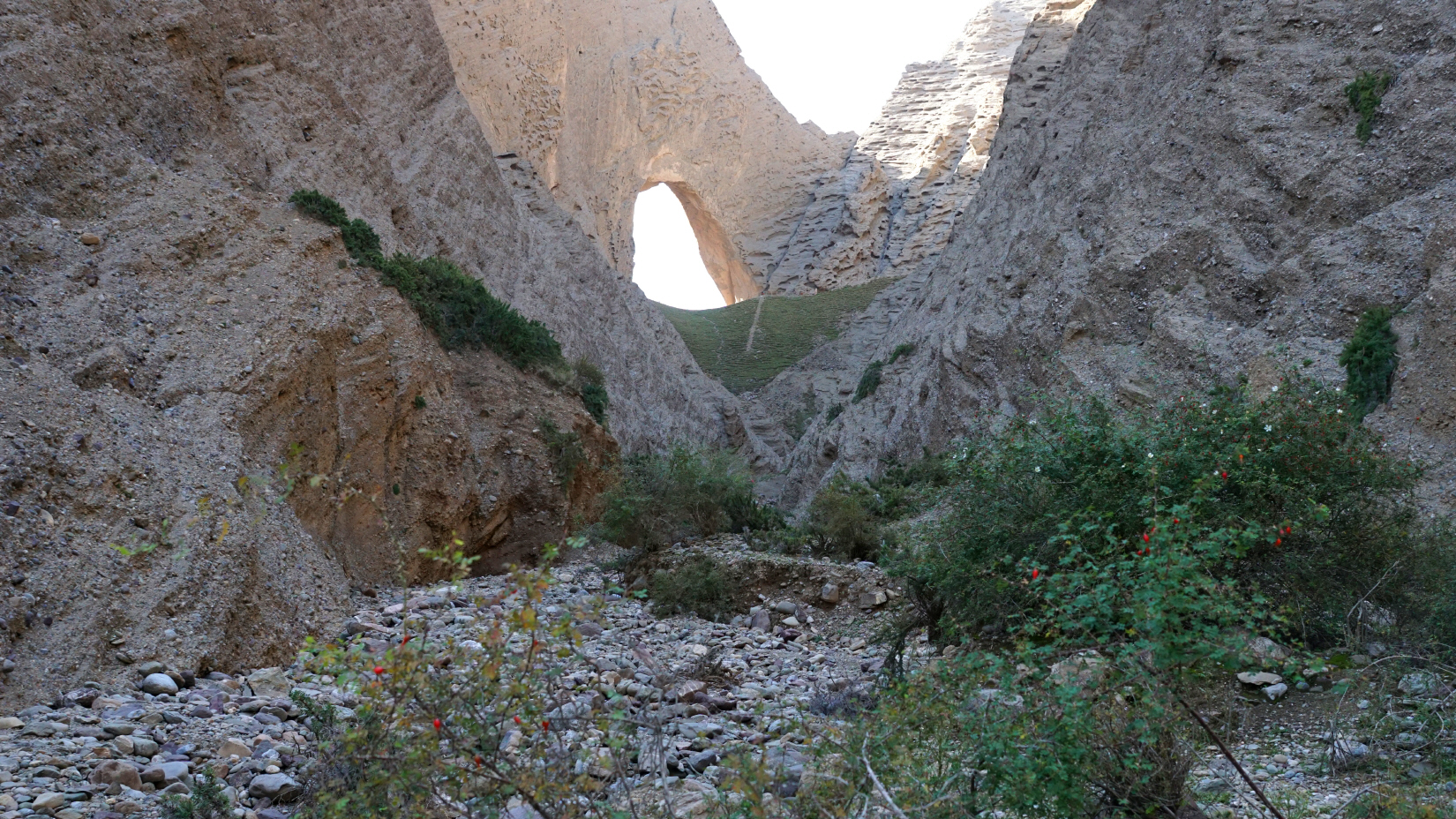 That was just the beginning of the annoyance. Right away I saw the large grassy ridge in front of the arch – a strange feature that looks quite artificial, as if a dam had been built at the end of the canyon. But I saw similar ones in other locations nearby, so I knew it was natural. However, there was a huge gash going up the middle of it, where the grass and rocks had been carved or scraped out inexplicably, ruining the natural look of the place. What was that all about? Why hadn't it been repaired? But that was nothing – then the vast wooden staircase appeared.
This was no quaint, modest structure like the little ones I had been on, squeezed in discreetly between tight rock walls. This was a massive piece of architecture, carefully engineered by some major construction agency to provide a grand entrance to the arch, in spite of the utter and absolute inappropriateness of the thing. I was scandalized, horrified. It got worse.
There were 192 steps, then an inclined ramp, then 92 more. At least all those are just made of wood. Next comes a broad staircase of 32 steps down, for some reason -- of smooth, permanent granite, about 30 feet wide, forever embedded in the ground. Then you're there… right on the vast flat viewing platform of polished granite slabs, for all the world like the outdoor plaza of some big-city skyscraper. On the far side were another 38 smooth granite steps to match those on the other side, in case you wanted a higher view, plus some kind of carved stone monument that everybody was taking pictures of that I instantly hated. This was the most disgusting abuse of a natural wonder I had ever seen.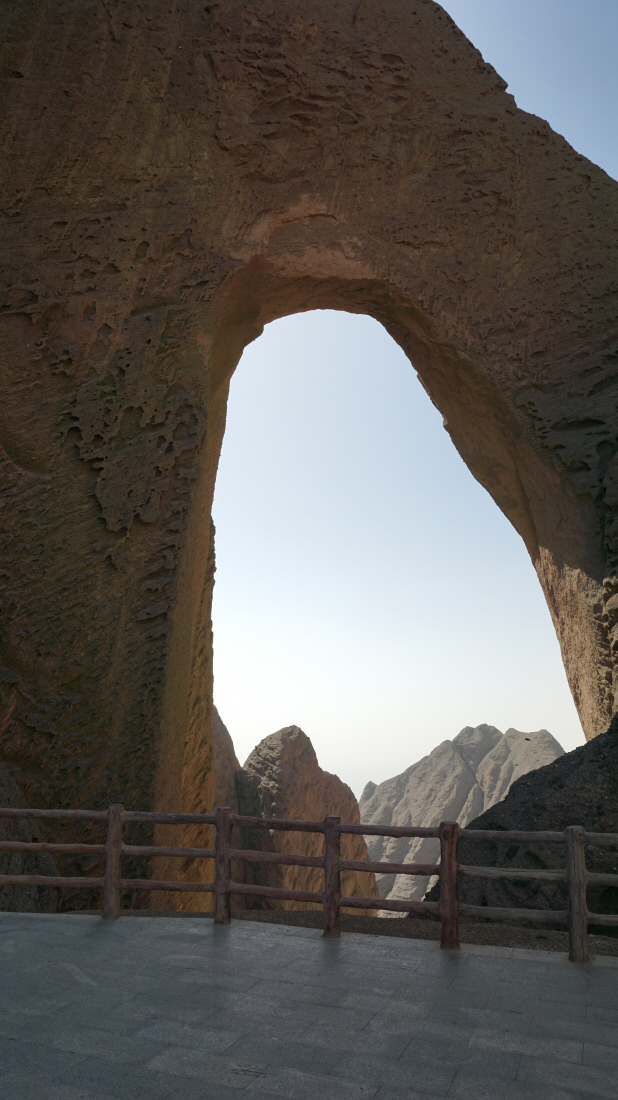 Since in order to get to the arch, every person obviously has to have enough climbing ability to hike from rock to rock, boulder to boulder, dealing with sun and the 9750-foot altitude – why on earth did the clueless Chinese government decide, when you are almost the whole way to the arch, that we suddenly would be in dire need of perfectly flat footing, an acre of paved viewing platform, tables, benches, fences, garbage cans, and that abomination of a giant staircase? Sure, it makes it easier to get up there, but what about what it destroys – the experience, the effect, the very Nature that we have come so far to see? If we can make it 99% of the way up to the arch on natural rough ground, we don't need to be babied and coddled for the last 1%! Why didn't they save themselves a million dollars (that stuff had to be helicoptered in, obviously) and just leave the grassy ridge as the viewing area in front of the arch, which people in the past had reported camping out on so enjoyably? Okay, I will certainly agree that the fence had to be installed, though they could have made it much less visible from a distance -- it's not wood, it's a very solid metal. Don't even consider for a second stepping over it – one step onto that crumbly ground in front of the arch will have you instantly skidding into a screaming, bone-breaking, bottomless fall with no hope of rescue, or even survival.
I made it!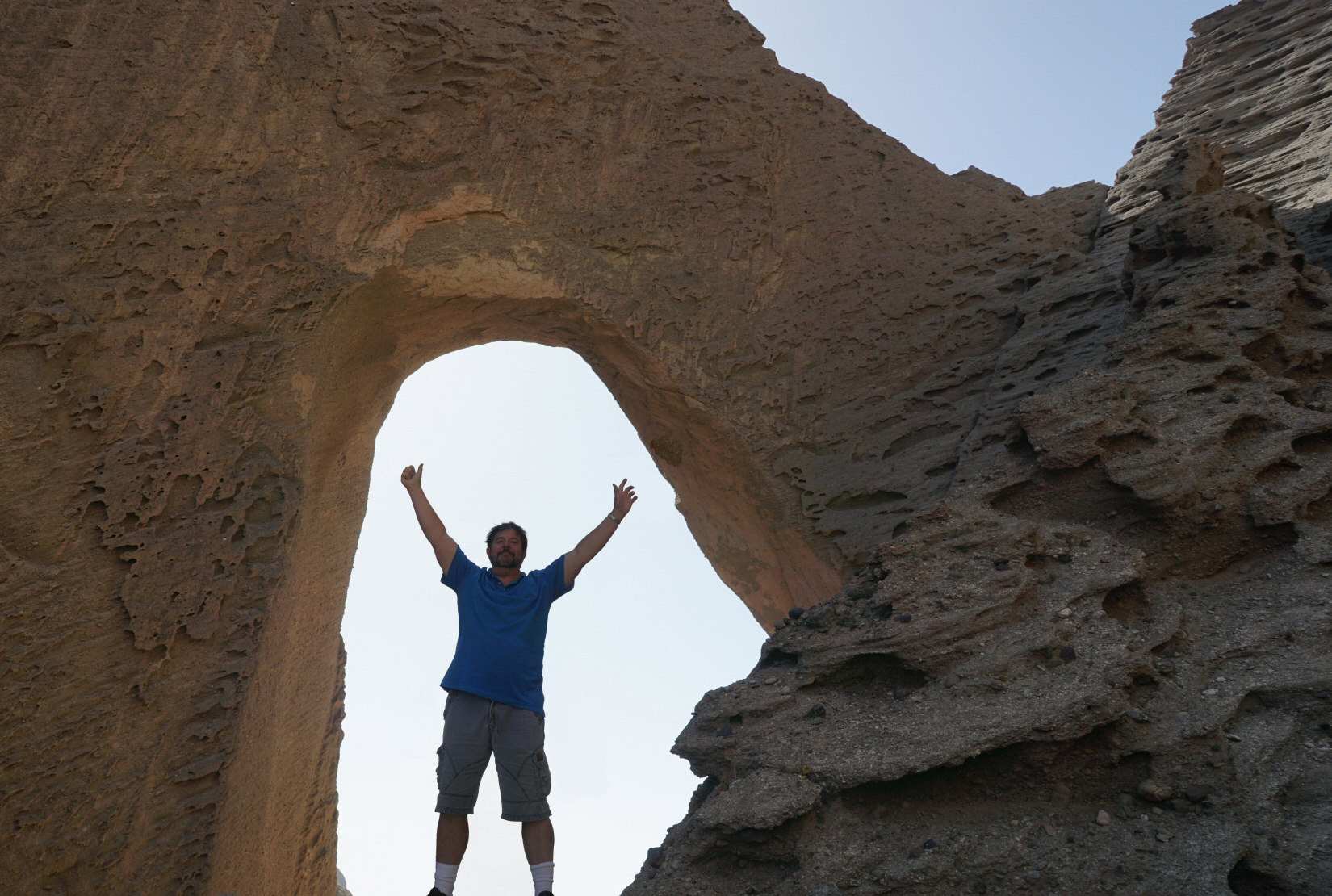 The hardest part of the whole hike was certainly the huge staircase at the end (which I did not photograph), but that was probably because I was in a hurry to get to the arch by then, being so close, and because I was already tired from the rest of the long climb. Partway up the stairs was the only time in the whole hike that I actually felt the need to stop, sit down, and take a drink – which turned out to be, not water, but some ghastly sweet carbonated litchee-fruit soda or whatever. But I would have gladly spent much, much longer crawling arduously up a natural hill at the end than seeing them destroy a world-class natural landmark with their disgusting "improvements" like they did.
After a bit of Photoshopping, this is how the grassy ridge should look.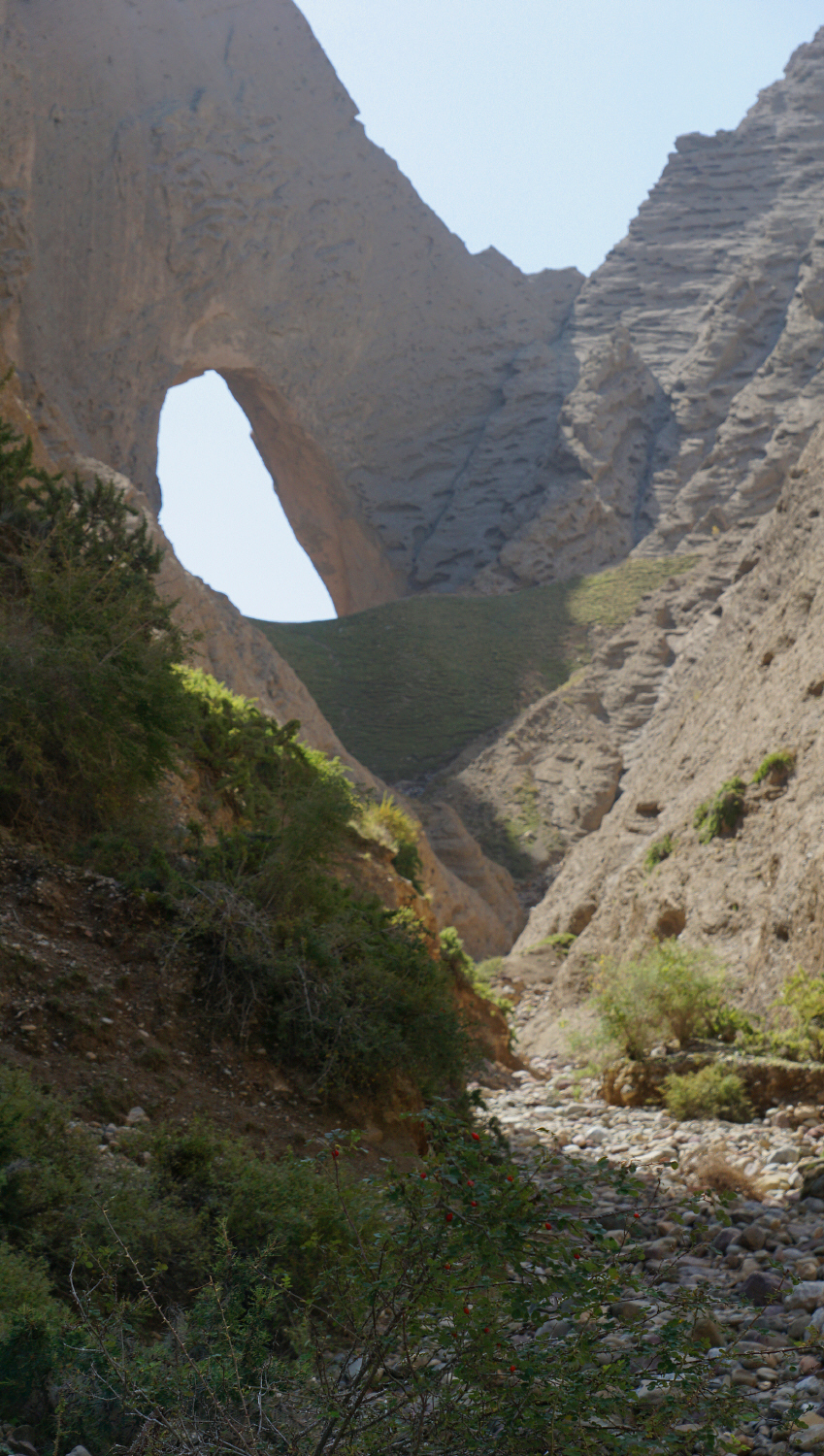 I guess everybody got the same advice I got, to come in the morning. After 20 minutes or so at the arch, the last visitors left, and I had the whole place to myself. I stayed till 1 pm, hoping vainly that some light would appear on the arch, but no – I could see it creeping up the valley way below, but it would be hours before it got up to where I was. The later in the day you can go, the better. I wanted to stay longer – standing on the edge of that tremendous dropoff, with the stairs and the plaza behind me, I could almost imagine what it was like to be there in the good old days, which were not even so long ago – back when nothing made by man was anywhere in sight. It is truly a spectacular span, with grand views both through it and in front of it. I am jealous of those few who can tell of pitching a tent on that grassy ridge in years past, waiting on the evening light, and then the dawn. I can only imagine that eerie massive black hole looming above all night in the moonlight, with that cliff of death just a few steps away. I would have loved it.
But I knew I'd better get on back – my driver was waiting, and he was obviously not the most patient of people. Surprisingly, it took almost as long to get back down as to get up – an hour and a half up, and hour and 15 minutes down; you have to be really careful on all those big loose rocks heading downhill, because gravity makes your steps fall heavier than going up. All the way back down, I never passed anybody coming uphill – I wonder if they are not even open in the afternoons? If you go, make sure you check on that.
We got back to the hotel by about 3:30. I was feeling crabby, and immediately went to take a nap. The evening was somewhat salvaged by that fabulous food market down the street, at least, and then a long wander through the Old Town on weary feet.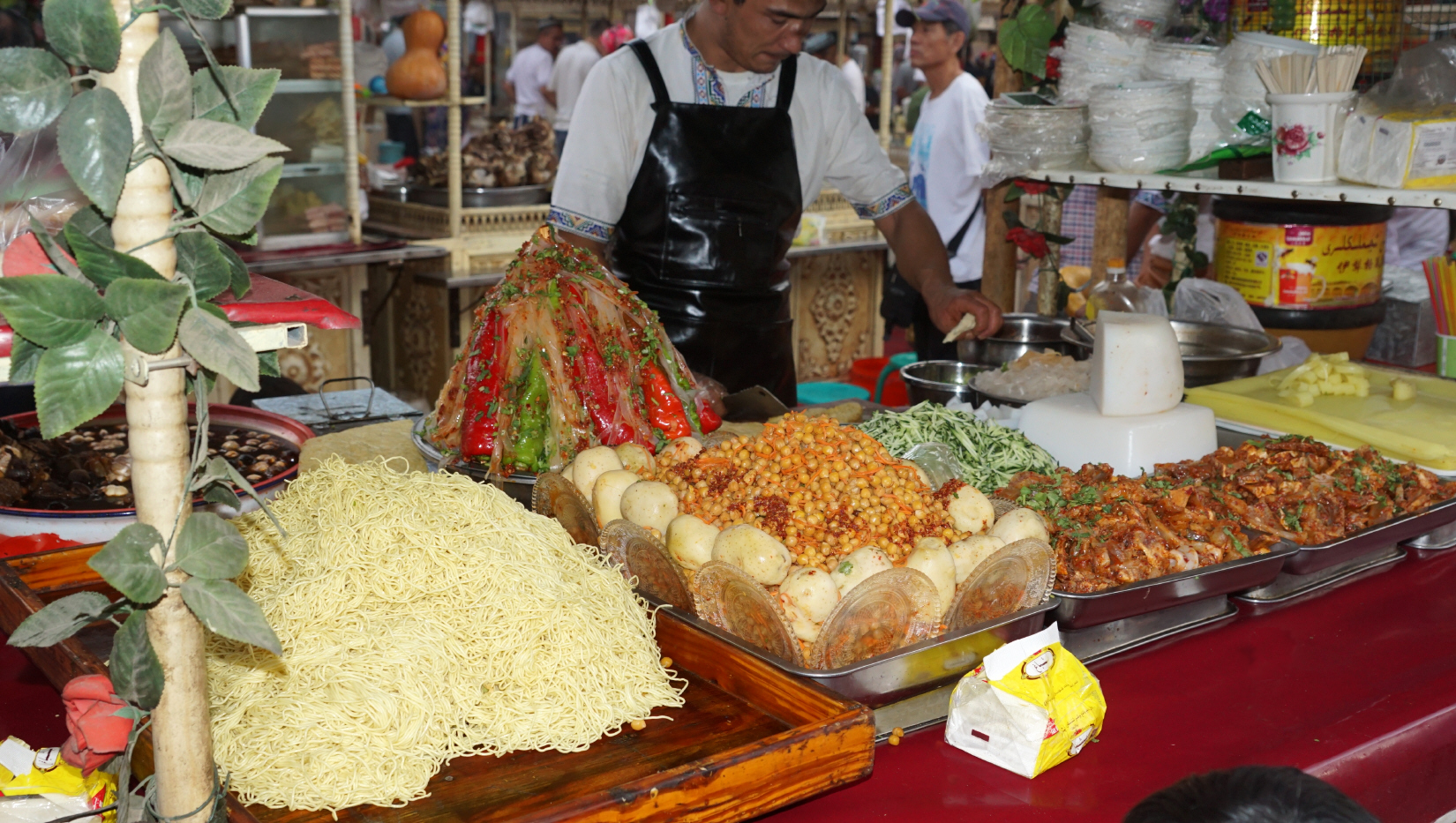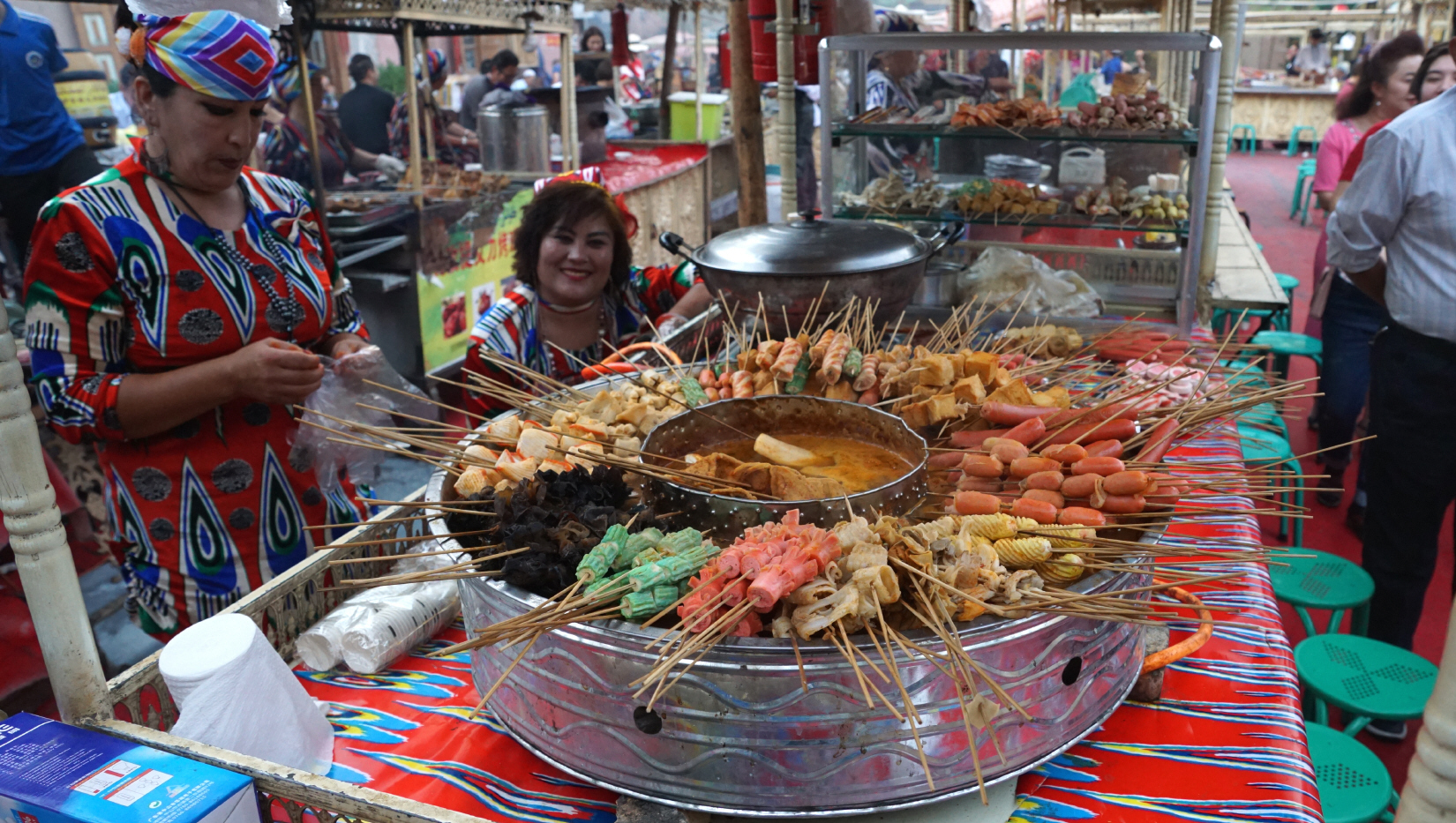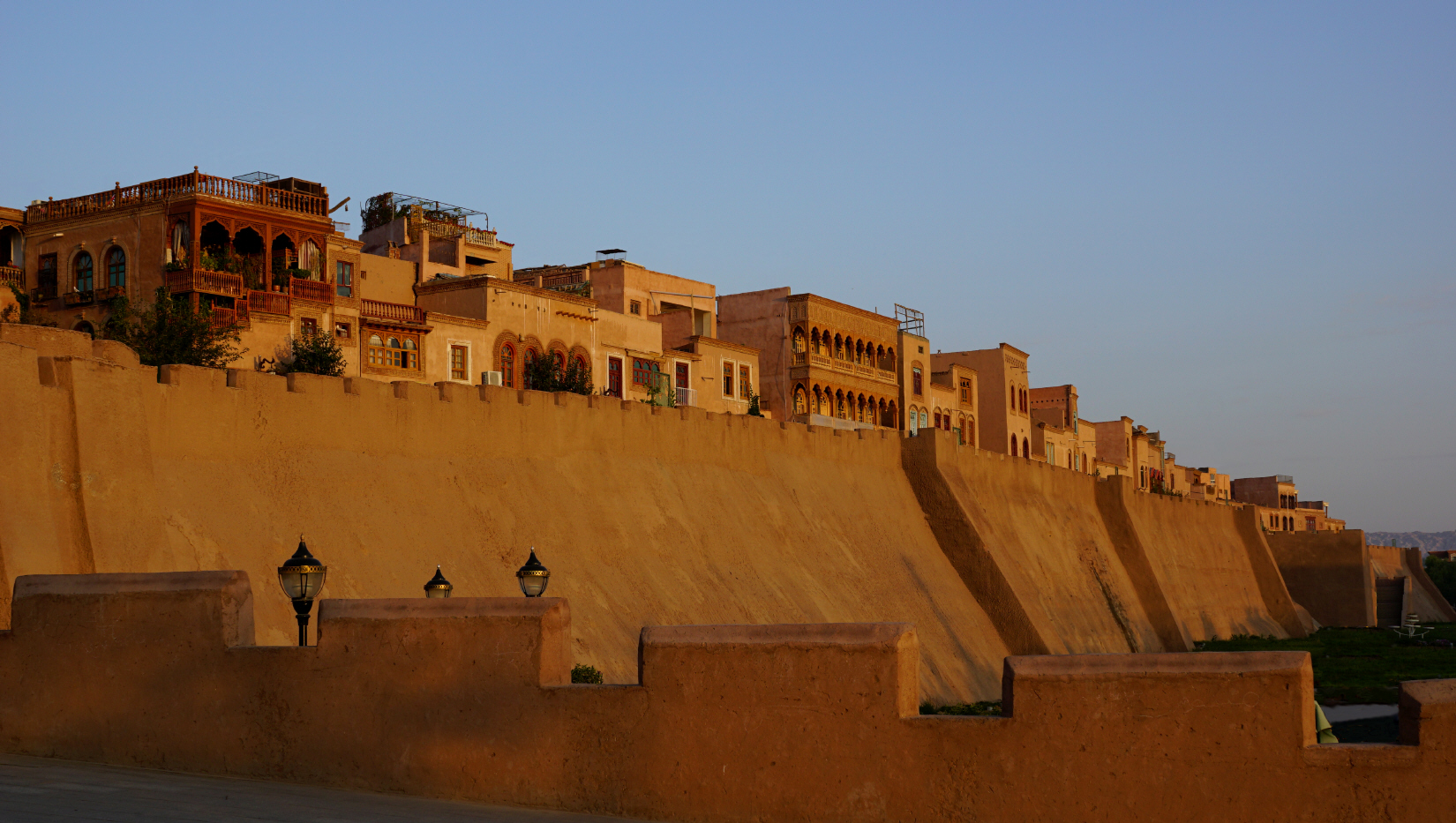 Don't even get me started on the ridiculous circus they've made out of the Great Wall of China, as I found out a few days later – that would be as lengthy a rant as this one. But at least they've only managed to ruin a few miles of it, with a thousand more still in a natural state. But there aren't a thousand Tushuk Tashes – why did they have to wreck the only one they have?
Click here to see more of my pictures of Kashgar
Return to Home Page: "Nature's Arches & Bridges"
**********************************************************************************************************************
(
)
(
)
(
)
(
)
(
)
(
)
(
)
(
)
(
)
(
)
(
)
(
)
(
)
(
)
(
)
|
\/

This sign is now hanging in the Kashgar airport terminal -- it's about 12 feet tall. Things will never be the same!